"Behold, I have given you authority to tread on serpents and scorpions, and over all the power of the enemy, and nothing shall hurt you. Nevertheless, do not rejoice in this, that the spirits are subject to you, but rejoice that your names are written in heaven." (Luke 10:19–20)
The Son of God gave these glorious affirmations to 72 souls who were returning after having been sent out "as lambs in the midst of wolves" (Luke 10:3). They had been called to proclaim peace, heal the sick and declare that God's kingdom had come near in the Word of God made flesh.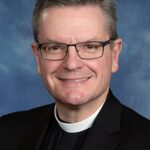 What marvelous assurance for these faithful witnesses of Christ — a confident trust shared by all Christian missionaries and their fellow baptized who so generously provide crucial prayer and enabling resources — that such witnesses are continually sent into the harvest field even today!
Reflecting on the experience of the 72 in an 1898 address to the Synod's Minnesota and Dakota District — and ably projecting the biblical narrative into the "now" — Friedrich Pfotenhauer observed:
The joy [Luke 10:20] will give us the right mind and the right inspiration for our mission work, the right tenacity of purpose and energy. For our person, then, we have obtained the good portion. We cannot be richer and happier and better situated on the earth than we already are. Happily and willingly, we will work where our dear God has put us, for wherever we go, we take heaven and the joy of eternal treasures with us.
Pfotenhauer, who would later serve as the Synod's president (1911–35), continued: "A true missionary, however, is not merely joyous in his work because his name is written in heaven, but also because through his ministry, his fellowmen shall be won for eternal life" (At Home in the House of My Fathers, Pages 718–719).
During our limited time on this earth, what could be better than that? Together, as the Body of Christ, we engage the world in His Word and work. The living and active Gospel makes wonderful things happen. The Spirit alone turns unbelief into saving faith. Human lives are changed — now and for eternity. Divine mercy and forgiveness are freely distributed. God's truth sets people free from sin and death. Heaven and its unending treasures are opened up, intended for all to share.
The rejoicing that emerges from these blessings is a symptom of the abiding presence of the Lord Jesus among us in Word and Sacraments. It represents a cheerful encouragement that drives away our fears and anxieties, even when we become distracted or dejected by an utterly fallen world that is openly hostile to Christ and His Gospel.
Rejoice, dear reader, as you encounter much witness and labor under the Lord's will — your work, your prayers and contributions, as well as those of your fellow redeemed — in the following pages. Here are just a few examples of the countless individuals who are experiencing the joy of knowing Jesus.
In Christ,
Rev. Kevin D. Robson
Chief Mission Officer, The Lutheran Church—Missouri Synod