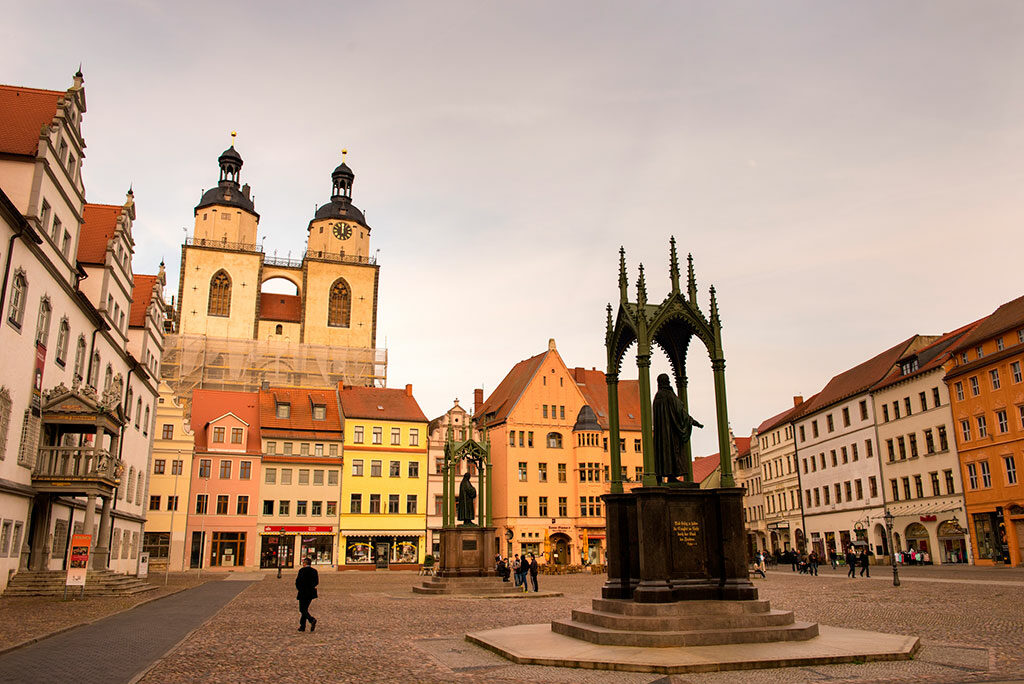 by Jeni Miller
The following article first appeared in the September-October 2014 issue of Lutherans Engage the World. Read the "Update" section below to learn about the exciting work that has been completed to date.
---
The Reformation was kind of a big deal. Errors needed to be corrected, doctrine needed to be restored, practices needed to be amended, all so that the Gospel could shine brighter and purer. Of course, education — both of clergy and laity — was no small part of the Reformation. Between placing Scripture into the hands of the people and providing the church with a catechism for lifelong learning, it's obvious Luther felt an educated and informed church was something to be sought after. Through The Wittenberg Project, our church continues to seek it even today.
The Wittenberg Project is providing a venue for Lutheran education and a platform for Gospel proclamation in Lutherstadt Wittenberg, Germany, the birthplace of the Reformation. As a key building in Wittenberg, the Old Latin School, is being renovated, The Wittenberg Project's Education-Program Committee is hard at work planning the particulars for how the new International Lutheran Center will offer educational experiences par excellence in the heart of Wittenberg. While the center is intended for use by all visitors to Wittenberg as well as locals, the building itself is very well-suited for groups of students, pastors, church workers and others who are looking for more in-depth study.
Inside the center, the chapel also functions as a lecture hall, seating up to 60 people, in addition to classroom space where students and guests can gather for instruction. Of course, the entire city of Wittenberg is a living classroom, so the International Lutheran Center also will serve as the home base for an immersion experience, not just classroom instruction.
"Those who choose to study in Wittenberg — either through college or seminary courses, or as part of a church group (e.g., confirmation class, elder hostel, youth group) — will be able to experience the streets, buildings and rooms where critical events turned Europe upside down," said Dr. Lisa Keyne, former chair of the Education-Program Committee. "They will feel the physical dimensions of Luther's world and see artifacts that reflect the historical reality of the Reformation, expand their vision for what was happening during the Reformation and interact ith people from all over the world."
From Campus to Wittenberg
Students at Concordia University System (CUS) schools, other colleges across the United States and elsewhere will have an opportunity to engage in both long- and short-term study abroad programs, with the International Lutheran Center hosting individuals and groups.
"Early on, we began working with the Concordia University System and individual CUS campuses," said the Rev. David Mahsman, LCMS missionary in Germany and managing director of the International Lutheran Society of Wittenberg, who is developing The Wittenberg Project. "Dr. Rich Carter of Concordia University, St. Paul led a six-week program in Wittenberg this year for CUS schools. I understand that the CUS is planning to offer more of these six-week experiences on a regular basis in the future."
While a six-week immersion trip would be a welcome experience for any college student interested in Luther and Reformation studies, each CUS campus also will be able to facilitate its own courses — some shorter and some longer — and service trips, working within individual campus trip and faculty guidelines.
Nurturing Seminarians, Pastors and Church Workers
In keeping with Synod priorities and goals, seminarians, pastors and church workers potentially will be able to visit Wittenberg via the International Lutheran Center to seek master's and postgraduate-level courses and research opportunities, or simply for professional continuing education purposes.
"Those who respect their calling and office as servants of God's Word are always thirsty for more, and learning from our rich Lutheran heritage can take place anywhere the books offer us the texts from Luther or Melanchthon's pen," said the Rev. Dr. Robert Kolb, professor emeritus at Concordia Seminary in St. Louis and a member of the Education-Program Committee.
"But reading and discussing them in Wittenberg lends a special flavor and deepens and broadens the experience by the unique visual experiences that can only occur [in Wittenberg]," he said. "That is why we hope to offer for our seminaries a variety of courses and other kinds of experiences in learning and encountering the Reformation. Just as we hope that our physicians have continued to learn and grow after leaving med school, so it is important that pastors and DCEs and DCOs and ministers of music and others in the service of the Church show respect for their calling by learning more. Wittenberg is an excellent locale for Lutherans to make that learning happen at a deeper level."
Education for All
As The Wittenberg Project continues to unfold, the Education-Program Committee is working diligently to develop an outline for a weeklong Germany experience, including key Lutheran sites with Wittenberg as the focus, with the intention that visitors of all ages would stay at the new International Lutheran Center. The idea is to have a weeklong "curriculum" unique to the International Lutheran Center, which leverages existing materials that have been developed for past trips and experiences.
"We are creating a variety of programs that will be of interest to congregations, youth, seniors and university students," explained Mahsman. "The weeklong Germany experience … began as a 'confirmation capstone' program. We will be working with some pilot congregations to send their confirmands to Wittenberg for a week or more for an immersion experience in Lutheran heritage and what it means to be Lutheran. We are working with CPH on the curriculum, which also could be adapted for use with other groups, including families, congregational groups and seniors (through elder hostels)."
According to Kolb, educating our laity and church workers in the heart of Wittenberg, where God worked through Luther to bring clarity to His Gospel, will offer unparalleled, once-in-a-lifetime learning opportunities that will continue to serve the Gospel in our world, both inside and outside of the Church.
"As a church historian, my calling involves me in leading people into contact with the past, with other times and other cultures, to translate across the ages and other cultural barriers what experiences with the action of God in human history has done in and through the message of our Lord's death and resurrection," said Kolb. "Some dramatic events that helped clarify the Gospel and demonstrate its power took place in Wittenberg, and we hope to bring both students and church workers already serving in congregations to study the texts of Luther and other reformers while visiting the places they walked and talked and absorbing something of the spirit of their times by seeing what they saw and walking where they walked."
Following renovation, the center is slated to open in May 2015. The project's timeline allows the building to be established and running in advance of the arrival of the many visitors the city anticipates for the 500th anniversary of the Reformation in 2017.
The Wittenberg Project is seeking prayers and support from LCMS congregations and schools, which are invited to join the Reformation 500 Club to help make this Gospel outreach and education possible in 2015 and beyond.
Deaconess Jeni Miller is a freelance writer and a member of Lutheran Church of the Ascension in Atlanta.
Learn more: thewittenbergproject.org
---
Update
The mood was joyful as Lutherans from around the world — joined by local residents, church leaders and civic officials — filled Martin Luther's Wittenberg parish church, St. Mary's, May 3, 2015, for worship, followed by the dedication of the Old Latin School to God's glory and the service of the Gospel.
The event marked a major milestone for The Wittenberg Project and the International Lutheran Center, which is located in the newly renovated building.
"It took a lot of work and the support of many dedicated and faithful people to get to that point," Mahsman said. "Now we are using this wonderful gift of God in His service."
Since May 2015:
Monthly worship services (in German) are led in the chapel by the Rev. Markus Fischer, a pastor from the Synod's German partner church, the Selbständige Evangelisch-Lutherische Kirche (SELK).
Hundreds of guests have already stayed at the center, including students from more than half of the schools of the Concordia University System.
The building has been used by the International Lutheran Council, the SELK's seminary, SELK congregations and pastors' conferences, and other Christian groups.
Kristin Lange — who succeeds Mahsman as managing director of the center — arrived in mid-February. Mahsman will return to the U.S. in September. Until then, the two are working together during the transition to finalize the "capstone" program intended to be the centerpiece of the International Lutheran Society of Wittenberg's plan to bring people of all ages to Wittenberg to learn about the Reformation and better appreciate what God has done — and continues to do — through it.
Lange and Mahsman have hosted various Wittenberg organizations, local kindergarten children, the city's tour guides and others who are interested in the building — and have made a point of sharing the Gospel with their guests.
They organized outreach at "Luther's Hochzeit," or wedding festival, which draws as many as 100,000 visitors to Wittenberg over one weekend in June.
Planning also is underway for the 500th anniversary of the Reformation in 2017, which is expected to draw thousands more visitors to Wittenberg every day. The Old Latin School will be in the very center of the activities and will house an exhibition that explains who we are and what we believe as Lutherans who uphold the authority of Scripture and the Lutheran Confessions.
"Our visitors' and guests' excitement to see how far this project has come, as well as their enthusiastic well-wishes for our presence here," Lange says, "give me encouragement for what God has in store for the Old Latin School."

Print page