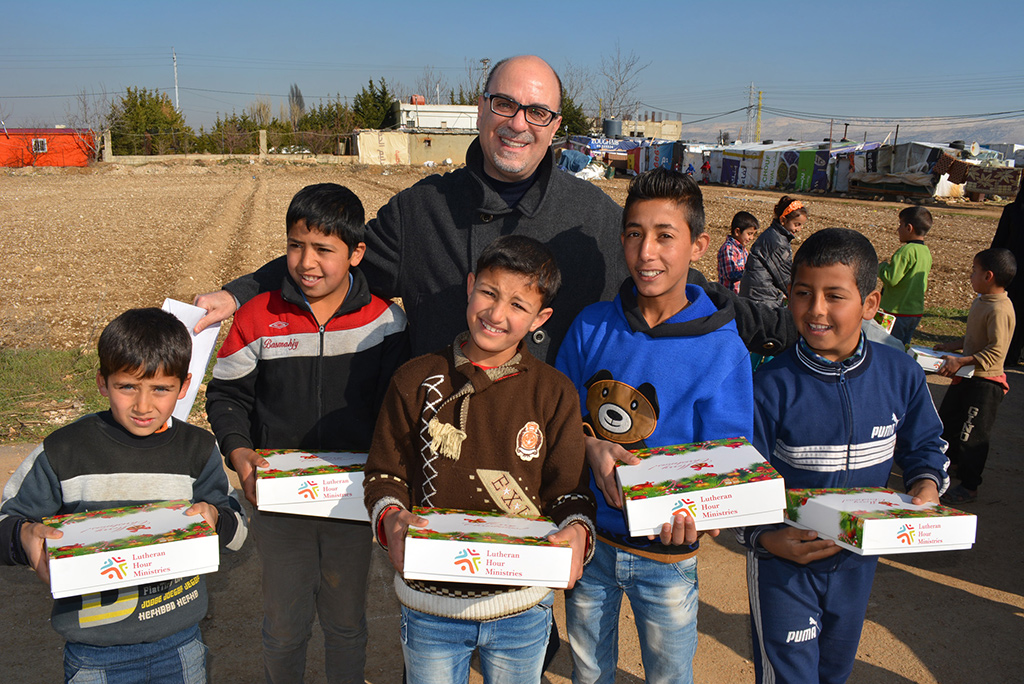 by Gregory Koenig and Roger Drinnon
As 2015 saw even more genocidal violence brought by the Islamic State (also called ISIS) against Christians and other minorities in Iraq and Syria, Lutheran Hour Ministries (LHM) has been caring for the persecuted with the help of grants provided by the LCMS.
"We knew we were in a dangerous part of the world," says Eric Gates, "but we felt compelled to visit these desperate people and demonstrate in person the concern and compassion that Christians in Lebanon and North America have for them."
Gates is LHM's regional director for Africa and the Middle East. The "dangerous part of the world" he refers to is a region of northern Iraq extending from Erbil in the west — just 25 miles from where Kurdish forces have squared off against ISIS forces — to Koysinjaq in the east, less than 40 miles from the Iranian border.
Together with LHM—Lebanon Director Fadi Khairallah, Gates spent three days there in late October, bringing assistance to communities of people displaced by violence.
Through compassionate giving across the Synod, the LCMS was able to provide a $70,000 grant in September 2014 and then another $150,000 grant in June 2015 to help LHM expand its Middle East mercy ministry, as scores of Christians flee to refugee camps.
"For the past two years, our Lebanon ministry center has undertaken an emergency program to help provide food and shelter materials, medicines and hygiene supplies, and the message of the Gospel to thousands of Syrian and Iraqi refugees in the Bekaa Valley and Beirut," Gates says.
"Additional partnership funding from The Lutheran Church—Missouri Synod has helped LHM increase the assistance we are providing and also to extend this ministry to families who have sought refuge in the Kurdish region of northern Iraq. This includes a large number of Christians who fled their homes after their communities were taken by ISIS fighters."
He says LHM not only cares for Christian refugees but also other minorities fleeing violence, persecution and even enslavement by Islamic State militants in the region.
"We visited several compounds and camps where we distributed food and other supplies to more than 1,300 people, many of whom were Iraqi Christians," Gates says. "We also reached out to Yazidi and Kakai minorities who had come to Erbil fleeing violence.
"As a matter of fact, while we were going door to door in an Erbil suburb, we stopped at one encampment run by four Yazidi women whose husbands had been killed by ISIS. Dressed in brown mourning clothes, they described how two of them had been enslaved by ISIS. They were able to escape only when their ISIS captors had rushed off to fight in a clash at the front."
He says that amid the exasperation brought about by such violence and persecution, some refugees find hope as they experience God's Word in this time of crisis.
"It was clear to us that the experiences of these people have left many feeling desperate and hopeless, but we heard stories that just as clearly show how God is using people's experiences for His glory," Gates says. "On our last stop one evening, we met a Syrian family of eight who had sought refuge in Erbil. They had been Muslims, but their contact with Christians had led them to read the Bible, and the power of God's Word had led them to faith in Jesus — the father had been baptized just three weeks earlier!
"Together with this family of new Christians, we prayed for God's continued blessing and protection. That's something we can all do — ask God to bless and protect our fellow believers and everyone in Syria and Iraq who have been touched by this ongoing crisis."
Gregory Koenig is manager of corporate communications for Lutheran Hour Ministries.
Roger Drinnon is manager of Editorial Services for LCMS Communications.