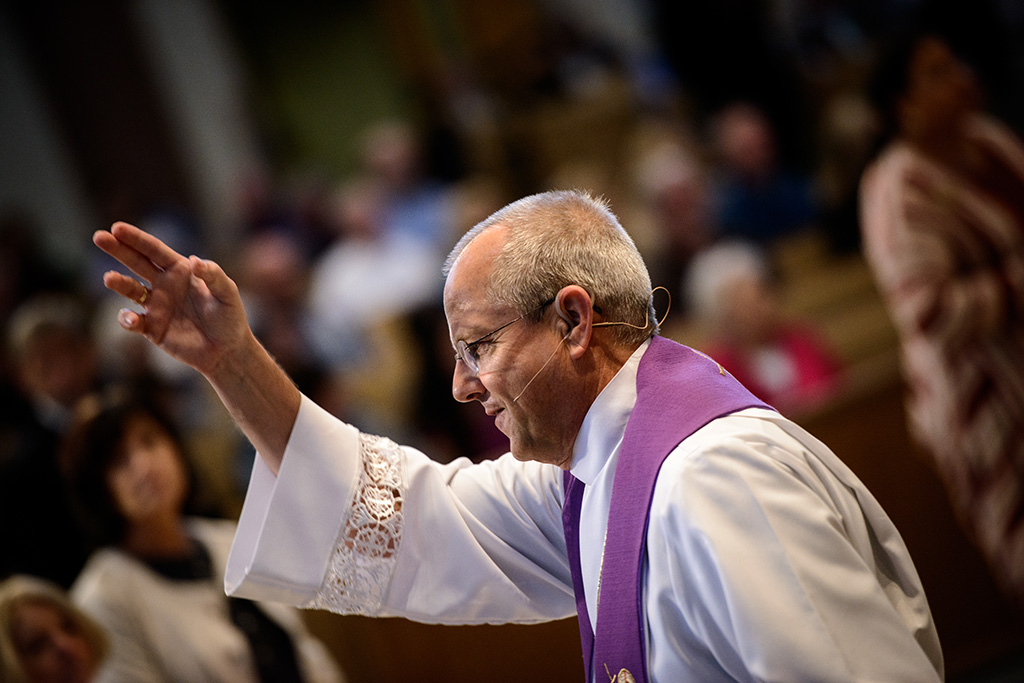 by Jeni Miller
"There's an intensity to it. You struggle every time you do it. A mentor and friend on vicarage used to say, 'The Sunday you don't have butterflies and aren't nervous about getting in the pulpit is the Sunday you shouldn't do it.'"
Preaching.
It's just one of those things that pastors do, right? The preachers preach, and the hearers hear. No big deal. God said to "preach the Word," and so we do. On this side of heaven, that preaching may look like a normal guy, standing behind an oddly shaped podium, rattling on about a Bible-related topic.
But have you ever stopped to wonder why? What is this phenomenon, and why in the world would God come up with this, anyway?
The Rev. Wally Arp, quoted above, has been a pastor for nearly 30 years, and he currently serves at St. Luke's Lutheran Church in Oviedo, Fla. As a seasoned pastor, he's had many years to hone his skills, especially in preaching, and has pondered the "why" question.
"We are creatures under God — He created us body and soul, physical and emotional — not disembodied spirits," Arp explained. "God wants to speak to us in the nature that He created us. And it's that incarnational aspect of God's love for us that drives the preaching task. It's an extension of His incarnational presence among us. That flesh-and-bones pastor among the people he's preaching to, it's a bit like when there's a little child afraid of the storm at night, and the parent calms them by saying, 'Jesus is with you.' The pastor in the preaching office brings Christ to the people."
Of course, there are a multitude of definitions of "preaching" out there. But according to Arp, in the LCMS we can speak of preaching as "[God's] truth communicated through personality — unchanging truth that is proclaimed, announced."
Unlike simple public speaking, preaching has the power to kill with the Law and raise the hearer back to life again with the Gospel. It's not just "a guy in a box regurgitating God's Word in the Bible back to us," Arp said. "But through the person of the preacher, who is by no means insignificant and who has love and passion and integrity and commitment to Christ, the Holy Spirit delivers God's Word to the listener. That preacher is a bridge between the world of the Bible and the world we live in."
Newer pastors, too, understand the power of preaching and the great significance behind this all-important activity that God instituted for the good of His people.
"Preaching is not merely a speech about the Bible," explained the Rev. Mark Nierman, pastor at Mount Olive Lutheran Church in Loveland, Colo. Nierman was ordained in 2003 and served one other parish before coming to Mount Olive.
"Sure, a good sermon will give information about a text of Scripture for our learning, but the goal of preaching is much more than just conveying information about the Bible. … Simply put, preaching is proclaiming Christ and Him crucified to the hearer. Faith comes from hearing. The Holy Spirit works through the preached Word to create and sustain faith in God's people."
Good Sermon, Pastor
Just as preaching may have varying definitions depending on whom you ask, so does the description of a "good" preacher. In the LCMS, Arp explained, "A good preacher loves the Word, loves Jesus and loves the people. And he cannot get enough of any of them.
"A good preacher has an absolute commitment, love, passion and excitement for the Word of God," Arp said. "Good preaching is always rooted in the Word. Also, when you're listening to a preacher who actually believes what he's saying, it's obvious that he's had interaction with the living Word of God and that it's actually penetrated his own heart. My vicarage supervisor, when someone would compliment him on a sermon, he'd say, 'Just remember, I preach to myself first!' … Like his hearers, he's a real person with a real life and real struggles, and the Gospel is the only solution he's found in his own life."
Nierman agrees: That commitment to the Word is what makes for good preaching.
"A person may be an eloquent speaker, but it is not eloquence that makes a good preacher," Nierman noted. "A good preacher is always sticking to the text of Scripture and conveying to the hearer what God is speaking to us through that text. A good preacher simply speaks God's Word. But God's Word can be difficult at times to understand. Good preaching is the clear preaching of God's Word that the people can easily understand."
Nothing Worthwhile Is Ever Easy
But if you ask most pastors how they preach so that people can easily understand, they'll probably tell you that although it's incredibly worthwhile, it isn't, well, easy.
"Even when you have enough time to really develop a sermon — which pastors rarely have — it's still hard," Arp said. "I've heard it said that standing in the pulpit and preaching for 15 minutes is as exhausting as working eight hours."
If preaching is a challenge for the veteran pastor, then surely it's no simple task for a younger pastor, either.
"It is a joy to proclaim the Good News to God's people from the pulpit," Nierman acknowledged. "But regular preaching is a rigorous task. Some weeks preaching comes easily — ideas for illustrating come quickly, and the writing process goes smoothly. Other weeks it is extremely hard, and you struggle to get the words out on the page. I can think of many times when, during the Divine Service, I sing the words of a hymn that so beautifully communicate God's Word, and I think to myself, 'Wow, that one stanza of this hymn communicates the Gospel more wonderfully than my entire sermon!'"
So, why do they do it, week after week? God commands pastors to preach the Word. Plus, most pastors love the Word so much that they can't help but preach it. But there's even more to it than that.
Preaching is pastoral care. The Word of God proclaimed from the pulpit creates and sustains faith in a person, and in so doing it offers the kind of spiritual care that you can only get through the pastoral office.
"As we gather in God's house for worship, we bring with us the cares and burden of life in this sinful, fallen world," Nierman said. "We battle temptation. We carry with us the guilt and shame of our sin. We struggle with fears. The devil, the world and our own sinful nature have been hard at work directing us to think in worldly ways and to not put our trust in God. Through preaching, we are able to rest in God's Word. We hear that our sins are forgiven. We are directed to Christ and are reminded that His perfect love casts out all our fears. We are assured that, even though we face many troubles in this world, Christ has overcome the world. We need this time together in God's Word so that together as God's people, we can live in it and encourage one another by it."
Just as he mentioned that preaching connects God's Word to the world in a very incarnational way, Arp reiterated that preaching brings the care of Christ to bear on the lives of the hearers, right through the words delivered by the pastor in the pulpit.
"Preaching is pastoral care because it meets people in their circumstances of life, the joys and the tragedies," Arp explained. "From the pulpit, on an ongoing basis, the pastor connects everyday life and vocation to who [his people] are in Christ, bringing God's Word to bear on what people are experiencing day after day after day."
It may seem like a radical thought, that preaching can protect, comfort and nourish God's people. But since God has set up His pastors to be His undershepherds, it makes perfect sense.
"A shepherd will protect the sheep from danger," Nierman added. "This is a part of pastoral care in preaching. Through preaching, the pastor will warn of dangerous teachings and ways of thinking and living that are contrary to God's Word. When Law and Gospel are clearly present in a sermon, it will benefit the hearer and they will be nourished by God's Word, bringing them the comfort of the Gospel."
Maybe preaching is kind of a big deal after all. Thanks be to God.
Photo gallery: Pastoral care and preaching in Oviedo, Fla. Photo gallery: Preaching and pastoral care in Loveland, Colo.
---
'Preach the Word' Initiative
With the upcoming 500th anniversary of the Reformation in 2017, now is the best time to honor that occasion with a renewed focus on preaching. The Synod's "Preach the Word" (PTW) initiative is meant to offer pastors an opportunity to improve on their craft of preaching and laity on their vocation of hearing. Here's what you need to know.
What — Twelve teaching modules are being developed based on the results of recently completed surveys and focus groups on preaching conducted by the LCMS.
Who — Pastors will gather in groups of three to study a module on a certain aspect of preaching, such as delivery, the Sacraments or preaching to a persecuted people.
How — The modules will be available via the Internet, so pastors can join together from separate geographic locations.
Why — According to the Rev. Randall Golter, who leads PTW, "The devil hates good Law and Gospel preaching, but it is what Christ does by His prophetic office: to call pastors to preach the Gospel and for His people to hear the Gospel. And the Church is built, sustained and expanded to the world, as He promised" (Matt. 16:16–19).
Luther was known as a preacher of the Gospel and an expounder of the Holy Scriptures. What better way to honor Luther — and Jesus — than to improve our preaching and the hearing of it.
When — January 2017
Learn more: reporter.lcms.org/tag/preach-the-word
---
About Preaching
The LCMS recently conducted surveys and focus groups that discovered these thoughts about preaching.
Laypeople …
1. Believe sermons should be biblical, Christ-focused and proclaim Law and Gospel.
2. Think poorly of sermons that try to entertain or water down the Gospel so as not to offend.
3. Want the sermon to convict them of their sin, point them to Christ and equip them to face the world.
4. Aren't typically aware of all that goes into preparing and delivering a sermon, but they do know that it takes a lot of work.
5. Often remember one main point, illustration or key observation from a sermon.
6. Believe that sermons need to have application, relevancy for everyday life.
Pastors …
1. Think preaching is very important. (99 percent said it is "important" or "very important.")
2. Find time management a challenge.
3. Worry about getting into a rut.
4. Struggle to find something new to say.
Deaconess Jeni Miller is a freelance writer and member of Lutheran Church of the Ascension in Atlanta.