Luke 7 – A Sinful Woman Forgiven
41 "A certain moneylender had two debtors. One owed five hundred denarii, and the other fifty. 42 When they could not pay, he cancelled the debt of both. Now which of them will love him more?" 43 Simon answered, "The one, I suppose, for whom he cancelled the larger debt." And he said to him, "You have judged rightly." 44 Then turning toward the woman he said to Simon, "Do you see this woman? I entered your house; you gave me no water for my feet, but she has wet my feet with her tears and wiped them with her hair. 45 You gave me no kiss, but from the time I came in she has not ceased to kiss my feet. 46 You did not anoint my head with oil, but she has anointed my feet with ointment. 47 Therefore I tell you, her sins, which are many, are forgiven—for she loved much. But he who is forgiven little, loves little." 48 And he said to her, "Your sins are forgiven." 49 Then those who were at table with him began to say among themselves, "Who is this, who even forgives sins?" 50 And he said to the woman, "Your faith has saved you; go in peace."
---
In the name of the Father, and of the Son, and of the Holy Spirit.  Amen.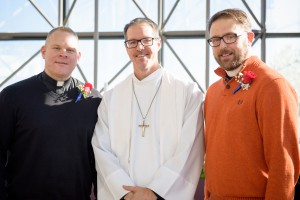 Well it is a historic, monumental day.  Especially for our first two national missionaries.  It is a banner day: family's all here, religious dignitaries all here… it's a full out Kodak moment that will make the headlines… a new era of LCMS missions, pioneers being sent into Mission Field : USA, what a glorious day with all the pomp and circumstance due to a living, breathing urban missionary. And then she had to come in. Her: that woman from the city, the one that everyone knows, she's the talk of the town, everybody knows about her dirty laundry, everybody knows her business – which just might be the oldest profession. We know where those lips have been that now kiss the feet of the holy man we invited into our house. We know the stains on her hands that now wipe His feet with her hair.
She has a lot of nerve showing up here in a holy place, all raggedy, among the well dressed and highly respectable people, coming around here in broad daylight. Now we, we are standing to the side looking down at her as she deserves, with our arms folded and noses scrunched – which seems the appropriate posture for this wretch who dares to show her face. But this holy man, Jesus, doesn't even seem to care what a sleazy scandal she is making, that will ruin our glossy storyline and nice photo ops; this teacher just doesn't seem to get what is happening right now. I mean she is the kind of sinner, whose sleazy sin just might rub off on we who are pure and are upstanding pillars of the church.
"If this man were a prophet, he would have known who and what sort of woman this is who is touching him, for she is a sinner." And Jesus answering says to us, "I have something to say to you." And we answer, "Say it, Teacher." This ought to be rich, we will see who schools who. But now, surely, folks, you can understand that the greater the debt you owe to someone, the greater the sign of love for the one who would just forgive it. Now you might think your debt isn't nearly half as bad as hers, but it's only because you don't know the half of it. Because if you fully knew the debt you owed… you would have taken one step in this holy place and you would dropped to the floor to grovel… you would have come into God's holy presence in fear and trepidation… you would have showered Christ's feet in your tears of repentance.  But you didn't.
You didn't, and this morning it was this sinful woman who has put you to shame… she has exposed your merciless heart… you didn't wash the feet of Christ by washing the feet of the least, you have no kiss for the scum of the earth let alone to kiss their feet… your nose was too scrunched to recognize the fragrant ointment of the sacrifice that is made by those who you find unworthy. This sinful woman has put you to shame by showing you what true worship looks like… to humble yourself prostrate at the feet of Jesus, with nothing to pray but "Lord, have mercy," with a heart of gratitude that cannot be contained. Because if you knew the price that was paid to forgive… if you knew the price that was paid to forgive your debt, you could not face this cross without tears of joy… the tears that wash your master's feet, your ointment poured out to anoint Him for the sacrifice that would be made for you.
The money lender comes to collect your debt… you have no currency to repay… who will save you, not with silver or gold? From the cross that stands atop the mountain of your sins… Jesus prays "Father, forgive."… and the Father's treasury that sat empty, with every drop of blood, God's Son fills the coffer to satisfy your debt. With every lash, every stripe, every nail and thrust of the spear… SO. MUCH. LOVE. All of your naked shame, all of your filthy scandal, every nasty stain and blemish… Jesus bears them all to robe you in His righteousness… because only in Christ can we come into God's holy presence.
This is city mission: sinners from the city, even the lowliest of the low, who recline at table with Jesus in the house, to eat this meal, to place their hands and lips upon Christ, to hear the very words of absolution that sets them free, free to go and to serve and to wash feet. This is city mission: humble forgiven sinners, who are sent away in peace because by grace through faith they have been saved.
Don't forget gentlemen [national missionaries]… don't you forget her… that sinful woman of the city that others might jeer at.  Her name is urban mission… this lady is Mission Field : USA… now you go, you go and you bring her Jesus. Announce forgiveness; wash hands, heads and feet; feed at the table…  with much love and much forgiveness, you go.   Remembering that you too fully know the debt that has been paid… and that you too, like the woman from the city, in this faith in Christ that saves, you too may go in peace: to serve, to love, to receive for yourselves the very gift of salvation.  Ladies and gentlemen, brothers and sisters in Christ, I'm here to tell you, "Your faith has saved you; go in peace."

Print page