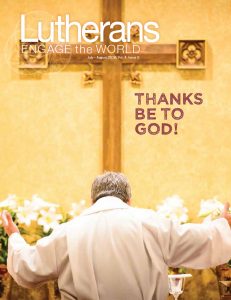 With this last issue of the triennium, Lutherans Engage the World looks back with thanksgiving on just a few of the opportunities God has granted His Church to bear witness and mercy in our life together.
These are YOUR stories. Your prayers, financial gifts and hands-on service have been blessed and used by our loving Lord to change and save lives for eternity.
Thanks be to God! A rehabbed building from the time of Luther now welcomes students, visitors and scholars to learn the truths discovered in the Reformation.
Thanks be to God! An examination of mission opportunities here at home has blossomed into a robust plan to deploy national missionaries and revitalize and plant new churches in communities across the country.
Thanks be to God! Mercy work continues to expand in Latin America through the service of seven deaconesses.
Thanks be to God! Not only are we reaching out to care for wounded and suffering church workers, we are actively working to prevent burnout and foster wellness.
Thanks be to God! Across Africa, roofless church buildings are being covered with tin provided by gifts given to the LCMS and the elbow grease of their own church members.
Thanks be to God! Hispanic ministry is blossoming and gaining ground in rural communities, on the border and in cities across the country.
Take a peek and see what God has done through YOU. Then pray for God's continued blessings upon the witness and mercy work of YOUR church. Support this work with your gifts. Get involved — volunteer, adopt a missionary, engage with the work in your parish and district.
God will bless this work we do together. He truly does all things well!
And stay tuned. We are making some big changes to Lutherans Engage the World to enable you to better share the great stories of how we Lutherans are engaging the world with the Gospel and Christ's mercy!
In Christ,
Pamela J. Nielsen
Associate Executive Director, LCMS Communications

Print page