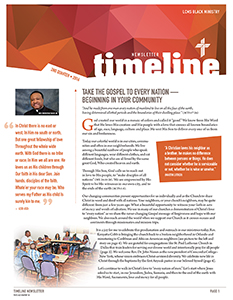 The second quarter 2016 edition of Black Ministry's TimeLine newsletter highlights opportunities for congregations and individuals to share Christ with our neighbors.
What a joy to celebrate this Gospel proclamation in The Lutheran Church—Missouri Synod through the following ministries:
Concordia College—New York, Bronxville, with the Rev. Dr. John A. Nunes as its ninth president, offering quality higher education as it embraces the Lutheran identity and Christ-centered diversity;
St. Paul Lutheran Church, Dallas, with the Rev. Byron R. Williams Sr. as its pastor, sharing Christ's love through an annual men's leadership conference, an annual women's conference and confirmation classes where leaders are trained to serve and pray;
Trinity Lutheran Church, Sauk Rapids, Minn., with the Rev. John Bakou, the first Anyuak pastor in The Lutheran Church—Missouri Synod, baptizing Anyuak children and adults into Christ's family and leading Sunday worship in the native Anyuak (Sudanese and Ethiopian) tongue for more than eight years;
Shekinah Lutheran Church, Orlando, Fla., with the Rev. Kenyatta Cobb as its pastor, ministering to the Caribbean and black neighbors in the Pine Hills community and helping meet their needs as the love of Christ is shared; and
Strength Of Savior (SOS), a Christian outreach center in Milwaukee, with Tiffany Phillips as its summer/after-school program manager, providing homework assistance, mentoring, meals and devotions for youth in a safe, positive environment.
Download newsletter
LCMS Black Ministry welcomes articles highlighting events, programs, activities, mission and best practices to share with other LCMS congregations in TimeLine. Please send your articles to the Rev. Dr. Roosevelt Gray Jr. at roosevelt.gray@lcms.org by June 30 for the third quarter 2016 newsletter.
Learn more about LCMS' Black Ministry.
Subscribe
For a free subscription, register for a myLCMS account and choose "TimeLine Newsletter." If you already have an account, update your newsletter subscriptions in your profile.
You may also call the LCMS Church Information Center at 888-THE-LCMS (843-5267) for assistance with registering.