"What you have learned and received and heard and seen in me—practice these things, and the God of peace will be with you."  Philippians 4:9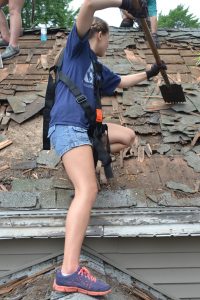 From coast to coast LCMS churches, schools, camps and social service agencies are inviting youth and their adult leaders to echo Christ's love by being a part of one of the many LCMS Servant Events they have planned for the summer of 2017.
Click here to find a complete listing of LCMS Servant Event Hosts who will benefit from your service and time. The website also offers the opportunity to further search opportunities by month, state, keyword, etc.
At an LCMS SERVANT EVENT you will…
Complete "light construction projects" for the elderly, low income and disabled allowing them to remain in their homes in Forest Lake, MN with Lord of the Lakes Lutheran Church.
Participate in urban mission projects with local ministry partners, neighbors and partner agencies with 516 Missions in Boston, MA
Share the Gospel and interact with underprivileged children at Youth Haven Ranch while being involved in construction, painting, and general maintenance of the grounds with Messiah Lutheran Church in Holt, MI
Provide housing repair and accessibility improvements for low income women and help plan and execute a dinner/dance for developmentally disabled adults in Richmond, VA with Trinity Evangelical Lutheran Church.
Lead Vacation Bible School for the children and youth from The Crossnore School and Children's Home with Grace Lutheran Church and Camp Linn Haven in Linville, NC
Teach and work with Native American children and families in Inger, MN with Lutheran Island Camp
Repair homes of elderly, disadvantaged, or disabled people by painting, roofing, insulating, plumbing, and repairing rotted or damaged floors, walls, or ceilings in Caro, MI with St. Paul Lutheran Church
Assist mission churches in Mexico with construction and outreach with Ysleta Lutheran Mission in EL Paso, TX
Serve as day camp counselors for refugee children of Burmese, Karin, and Sudanese descent with Camp Lutherhaven in Albion, IN
Help and entertain local senior citizens with Camp Trinity in New Haven, MO
Complete needed repairs and improvement of grounds and buildings at Camp Dixie Outdoor Ministries in Alberta, AL
Experience Appalachia life, helping senior citizens, veterans, disabled, low income homeowners with general home repair in Caldwell, OH with The HARP Mission.
Work with local agencies to repair homes and yards, and provide handicap accessibility where needed in Kokomo, IN with Lutheran Church of Our Redeemer
Be a companion to mentally and physically challenged youth and adults for a four-day overnight Bible camp at Camp Wartburg in Waterloo, IL
Plan and execute a camp experience for migrant and/or inner city children with Camp Concordia in Gowen, MI
Help grow a new ministry in Michigan's beautiful Keweenaw Peninsula through on-site building projects as well as service and outreach opportunities in local communities with Camp Luther in Atlantic Mine, MI
Provide volunteer work at the Santa Fe Food Depot; maintenance work at the church as well as for individuals in the community needing such assistance with Christ Our Savior Lutheran Church in Angel Fire, NM
Serve with Dakota Boys and Girls Ranch in Minot, Bismarck or Fargo, ND and assist with such projects as landscaping, building and ground maintenance; office support; assisting with the therapeutic riding program; and activities at our thrift shops.
See one of most pristine and surreal places in Colorado and provide clean up to the Platte River after extensive usage has left this place in need of a face lift with Lutheran Valley Retreat in Woodland Park, CO
Help groom horses, clean-up our tack, build campsites, clear trails and generally help us get the horses ready for the Horse Outreach Program at Lutheran Island Camp in Henning, MN
Work alongside Champ Camp participants who have a wide variety of special needs and are looking for caring servant friends with Lutherhaven Ministries in Coeur d'Alene, ID
Help repair lower income homes while building relationships and sharing your faith with the homeowners in Weston, WI with Mount Olive Lutheran Church
Serve a group of adults who are often pushed to the side by society with Mt. Cross Ministries in Ben Lomond, CA
Reach out and serve others by working light construction, painting, landscaping and other hands-on projects on the homes of those in need throughout the community of Angola, NY with Pioneer Camp and Retreat Center
Work the beautiful Botanical Gardens, help maintain the historic Olmsted Park system, and support the Genesis Project, which engages in various human care ministries in Buffalo, NY with Salem Lutheran Church
Perform simple, significant service for disadvantaged folks in the community and instill an awareness of needs that exist in your own back yard through Idaho Servant Adventure in Wallace, ID with Shoshone Mountain Retreat
Serve Appalachian families in need by performing various construction tasks including general home repair, painting and digging new septic tank systems in Asheville, NC with Emmanuel Lutheran Church
Help rehabilitate homes for the elderly, single parents, and those in financial need with Apostolics of Oakland Lutheran Church in Oakland, MD
Serve at the local food bank, spend the day at a Christian group home/farm for adults, and also help with some ongoing maintenance projects in Kalispell, MT with Trinity Lutheran Camp.
Complete a variety of projects (wood splitting, trail, work, fence repair and cabin restoration) to get Lutheran Velley Retreat ready for the summer with Trinity Lutheran Church in Garden City, KS
Grow in faith through serving, sharing Christ and developing relationships
Find an event for your group here.

Print page