Through The Lutheran Church—Missouri Synod's Short-Term Mission program, a volunteer team from Lord of Life Lutheran Church, Plano, Texas, served in the Dominican Republic in February 2020.
A volunteer reflects on her experience learning about mission work in the Dominican Republic. 
---
By Caitlin Moudy
The first thing we saw upon arriving at Iglesia Evangélica Luterana Confesional in Palmar Arriba, Dominican Republic, was the smiling face of Ramona, eager to greet all the new North Americans who had come to see her home. She shook our hands with excitement and led us up to the chapel where members were setting up chairs in preparation for the Matins service. Young kids shuffled into the sanctuary, and soon their voices were the loudest ones in the room as we sang praises to our God. He was just as present in a small group of people as He is in a room of hundreds. And as we worshiped in a language we did not speak, the glory was His all the same. After the service we all shared "la paz," the peace, with smiles, hugs and handshakes. The three-story building served not only as a church, but also as a Christian school for younger children and as a seminary, training pastors from all over Latin America who would go back to their home countries and plant churches.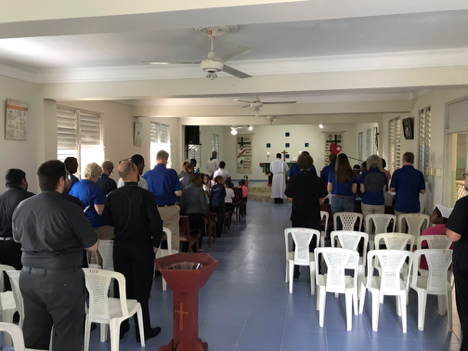 Good Shepherd Lutheran Homes group home
Next door to Iglesia Evangélica Luterana Confesional is the Hogares Luteranos el Buen Pastor (Good Shepherd Lutheran Homes) group home, which houses Ramona and five other orphans with special needs. In the group home they have tías and tíos that spend time with the kids and help meet their daily needs. The team gathered around to listen as the director of the home told us the heart-wrenching stories of the kids' backgrounds. It was difficult to hold back tears as she described how one child was found in the garbage and others were left alone to a government that counted them as unworthy. Here, in this mercy home, they were shown that they are made worthy in Christ. Here they were loved and cared for and treated as the amazing creations of God that they are. The director stated confidently that "God was here," in this home, "in the beginning and He will be here in the end."
Neighborhood visits
We visited two neighborhoods, first the tiny Villa Dura with its littered roads, where clothes hung to dry on barbed wire fences and three boys enjoyed a game of baseball in the street. There is a community center there where the nearby Lutheran church often holds services. The other was the neighborhood that the Pueblo Nuevo church resides in. People were sitting around in the sun talking to one another, working on cars and building houses.
Some recognized the seminarians and missionaries who were escorting us, and waved and greeted the group. The homes made from palm tree bark with tin roofs or concrete cinder blocks were covered in brightly-colored paint, each one different from the one beside it.
We came across a small house and a friendly lady who welcomed us inside. Inside the small home we got to hear her story: Not too long before our visit her home had burned down. Luckily, she and her son were without injury, but the devastation was there nonetheless. She recalled calling the pastor, in tears, to tell him the news. But the tragic event turned into one of hope. She said, "God is building it back up better than it was." While this incident was hard and painful, God was restoring her home and making it even better than it was before, with new appliances and more space.
Continuing the walk, we approached a public school further along in the neighborhood. A seminarian explained that every Thursday they get to come to the public school and give a 15–20 minute Bible lesson to the students of a few different classes. Church workers go out regularly to do home visits and school visits, and to speak to the people in the city. These frequent interactions include prayer, reading Scripture and friendly day-to-day conversations.
Whether it was in one-on-one conversations or stories told to the entire group, I got to spend time with and hear about the amazing ways that God has called His servants to do His work in the Dominican Republic. These moments were spread throughout the whole trip and allowed me to spend time with my amazing, kindhearted brothers and sisters in Christ. Courtney Zalmanoff, a GEO Missionary, and Erin Mackenzie, a Career Missionary, went everywhere with the team, making interpreted conversations easy and showing us all the ways God is working and changing lives.
Sharing the love and Good News of Jesus Christ
Missionaries, seminarians, pastors, deaconesses, church workers and believers in general make up the Body there, all fulfilling different roles, but each for the same cause: to know God and to make Him known. Sharing the love and Good News of Jesus Christ with these people who desperately want and need it, they give their lives to serve God and serve others.
The Dominican Republic's culture of relationships enables interactions and conversations that introduce Christ. It makes for very fertile ground. LCMS missionaries in the Dominican Republic get to build relationships and share Christ with people by simply doing life together, the weeping and the rejoicing.
It's an amazing thing to hear and see these moments that are nothing short of miracles. These people who don't have much seek the only thing that truly matters. They each have a different story; many have fallen upon hardships and endure suffering on a daily basis, yet their faith and the Lord's love sustains them continuously. In the highs and the lows, His mercy never ceases, and the Lord is raising up His people here in the Dominican Republic. They hunger and thirst for righteousness and will be satisfied.
Caitlyn Moudy grew up at Lord of Life Lutheran Church in Plano, Texas, along with her parents, brother and extended family. She is currently in school to become a high school U.S. history teacher but is strongly interested in long-term mission work. She works at a public high school, tutoring kids in social studies. She loves going to the gym, being outside, and listening to praise music.