News and Notes: Life, Health & Family — Spring 2021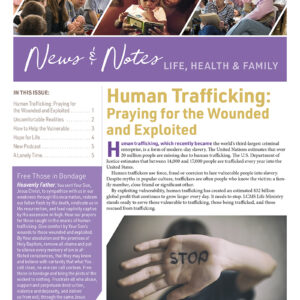 The Spring 2021 issue of LCMS Life Ministry's News and Notes newsletter focuses on human trafficking, which affects people around the world, even some in our own congregations and communities.
This issue also gives other life-related updates and articles, including:
The announcement of a new podcast from LCMS Life Ministry, titled "Friends for Life";
An explanation of what the Apostles' Creed has to say about life; and
A reminder that in Christ and His church, you are never alone.
Download newsletter    View archives
Visit lcms.org/life to learn more about LCMS Life Ministry.