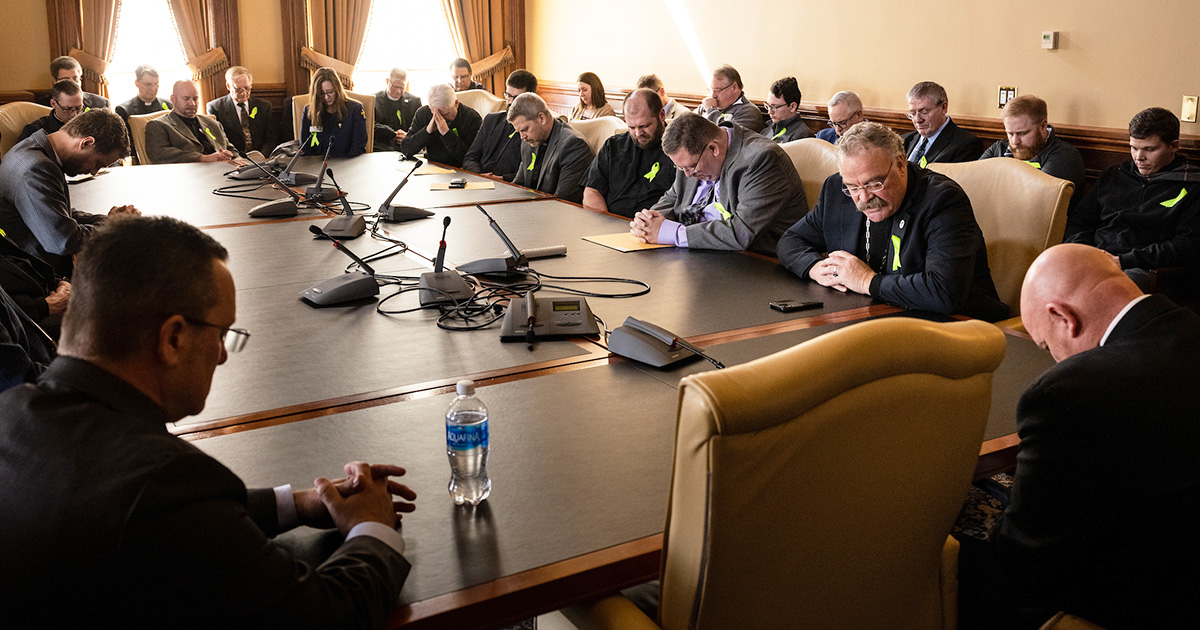 By Kevin Armbrust
On March 28, Lutheran Church—Missouri Synod (LCMS) pastors from throughout Iowa gathered in Des Moines to meet with their state legislators at the Capitol. The pastors also met with lawmakers who attend LCMS congregations to hear about legislation underway to protect life and the freedoms of churches and Christian schools.
Before gathering at the Capitol, the pastors met for breakfast and mutual encouragement at Gloria Dei Lutheran Church in Urbandale, Iowa. The event was hosted by Lutheran Family Service, an LCMS Recognized Service Organization that offers pregnancy support, marriage counseling, mental health counseling, adoption services and more. 
LCMS President Harrison reviewed the history of abortion to before the time of Christ, including its murderous practices.
Harrison noted, "We are not going to change America. … We are going to struggle and fight day-to-day. … We confess a Creator who loves. … We share Jesus. … That is why we live."
Harrison noted the opportunities Christians have to influence legislation.
"We have the right and responsibility … to talk to our Christian representatives, to our LCMS legislators … and to remind them what their responsibilities are relative to the natural law."
Deaconess Dr. Tiffany Manor, managing director of LCMS Human Care and Ministerial Support, encouraged those preparing to meet with their representatives. "It's not just a state issue; it's a national issue," she said. "Success in Iowa … will impact … efforts in other states. …  When you're visiting with [your legislators] today … you represent more than yourself. You're speaking for your congregation, your neighborhood, the schools in your town, for hundreds of people."
The Rev. Dr. Brian Saunders, president of LCMS Iowa District East, closed the morning with a prayer for mothers and children. "Lord, I praise thee for Thou art fearful and wonderful. … We pray You to make of us the kind of parents you want. … Keep mothers strong and healthy during their pregnancies. … Grant that they may never do anything to harm their child, bodily or spiritually. … May their children always be a joy to You … and may we [all] praise You in all eternity through Jesus Christ our Lord. Amen."
The rest of the day was spent at the Capitol. Upon arriving, the group met with the LCMS caucus of the Iowa state government. There, senators and representatives welcomed the pastors and provided brief overviews of current and future legislation on which they are working. Legislators expressed their appreciation for the pastoral support they receive and the encouragement that this gathering provided as they seek to live out their vocations in a way pleasing to God and in service to neighbor.
"I so look forward to time with you. We always enjoy when you come up, and it's great to be with fellow believers," said State Senator Tim Kraayenbrink, who serves Webster County and is a member of St. Paul Lutheran Church in Fort Dodge. 
Kraayenbrink reviewed promising and challenging aspects of current pro-life and pro-religious education legislation. He then introduced the rest of the LCMS caucus, who also addressed the pastors and expressed their appreciation and desire for continued prayers.
Following the meeting, the pastors were invited to the House chamber and to spend time with their representatives and senators.
Posted May 31, 2023