Writer's Guidelines for The Lutheran Witness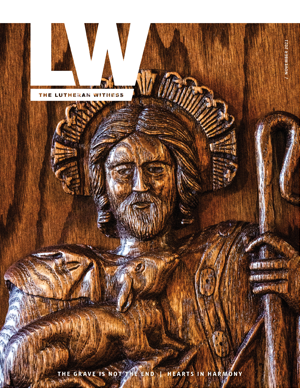 The Lutheran Witness is the official periodical of The Lutheran Church—Missouri Synod (LCMS), a 2.1-million-member church body with headquarters in St. Louis, Mo. Published 11 times a year (June/July is a combined issue), the magazine has a circulation of approximately 120,000. Its purpose is to provide LCMS laypeople with stories on faith and life, theology and culture that help them interpret the contemporary world from a Lutheran Christian perspective.
What we're looking for …
We're always on the lookout for compellingly readable, theologically rich writing in a variety of formats:
Compelling feature stories, especially those that deal with LCMS people, ministries, and events
Teaching essays on topics relating to Lutheran theology and history
First-person narratives and personal stories about life and faith
Interviews and profile pieces featuring people connected with the LCMS
Thoughtfully written opinion pieces on hot button issues of cultural and ecclesial interest
Infographics, how-to articles and "listicles" that explore aspects of Lutheran life and theology
Humorous essays and comic strips relating in some way to Lutheran life and theology
Unpublished hymns and poetry
Unpublished photography and artwork
Unpublished excerpts from forthcoming books by LCMS authors
Bible studies
Articles interacting with buzzed-about books, movies, TV shows, albums, blogs, podcasts and other pop culture artifacts from a Lutheran perspective
(Please note that we are a magazine of The Lutheran Church—Missouri Synod and will therefore give preference to articles by LCMS authors about topics of interest to LCMS readers.)
Although articles on any topic appropriate to our readership will be considered, we are especially interested in stories that tie into our themes for 2020:
| | | |
| --- | --- | --- |
| Month | Theme | Deadline for queries |
| January | Grace upon Grace |  October 15 |
| February | Hearing and Believing |  November 15 |
| March | Fasting and Temptation |  December 15 |
| April | If Christ has not been Raised |  January 15 |
| May | Christ and the Church: Wedding Theology |  February 15 |
| June/July | Loving Your Neighbor in Politics |  March 15 |
| August | Food and Fellowship |  May 15 |
| September | Ars Moriendi: The Art of Dying Well |  June 15 |
| October | Galatians and the Reformation |  July 15 |
| November |  State of the Synod* |  — |
| December | And He Tabernacled Among Us |  September 15 |
*Due to the unique formats of these special editions, no outside queries will be considered.
How to pitch your article idea to us
To gauge our interest in your idea for an article, send a query email to witness@lcms.org.
You may send a complete manuscript if you have one available, but an email query first is generally preferable and may save you time and trouble if the idea isn't a good fit for us. For visual art, poetry, and book excerpts, please paste in the entire submission at the end of your query email. Do not send attachments unless we ask for them.
If you do not have access to email, we will also accept submissions via the postal service. No phone calls, please.
Include the following information in your pitch:
Subject line: LW query: [subject of proposed article]
Story idea in brief
Projected length
Connection to news event or holiday (if applicable)
Sample paragraph
Short explanation of why this article would be a good fit for our audience
Your credentials as an author (including website/blog/social media links and name of LCMS congregation, if applicable)
Please note that because of the magazine's long lead time, many articles are planned 3-6 months in advance of the publication date. Time your queries accordingly for best results.
Exclusive book excerpts will be considered only for forthcoming titles with publication dates after the magazine issue in which they will appear.
Our staff is small, and the volume of correspondence we receive is substantial. Even so, we will do our best to respond to your query within one to two weeks. If you have not received a reply from us within four weeks, you may assume that we are not interested and feel free to pitch your article elsewhere. 
What you can expect if we like your query
If we are interested in your query, we will assign you a deadline and word count and send additional instructions.
Articles may be selected for publication either in our print publication or on the LW blog (or both), at the editor's discretion.
All articles are edited for clarity, style and length; a doctrinal review board will also evaluate manuscripts for theological content. When possible and appropriate, we will send edited drafts to authors for review prior to publication. (Please note that we have the final say on editorial changes.)
The Associated Press [AP] Stylebook and Merriam-Webster's Collegiate Dictionary (10th edition) serve as our basic guides to spelling, grammar, punctuation, and usage. When quoting Scripture, we prefer the English Standard Version (ESV), unless the specific needs or wording of the story require a different version. (If that is the case, please let us know.)
Payment for commissioned articles is on a sliding scale, based in part on both the article length and complexity and the author's credentials. Payment will be processed after an author's contract has been signed and returned and the article in question has successfully passed doctrinal review. Excerpts from forthcoming books are uncompensated, as both the author and publisher can reasonably expect to derive material benefits from the publicity of their work.
Rights
The Lutheran Witness purchases first North American rights plus electronic rights for the Lutheran Witness website and blog, and the right to grant limited reprint permission to LCMS congregations strictly for parish use. We do not sell rights or permissions to others, but will refer them to you.
The rights to stories revert to their authors once the story is published.
When work is submitted, unless otherwise noted, it is understood that the work is free of copyright protection or that you are the owner of any copyrights related to the work and that submitting it is not in violation of any intellectual-property laws.
Send queries to: witness@lcms.org
About The Lutheran Church—Missouri Synod
The St. Louis-based Lutheran Church—Missouri Synod, founded in 1847, has nearly 2 million baptized members in over 6,000 congregations served by more than 9,000 pastors. The church owns and operates KFUO Radio, two seminaries, nine colleges and universities and the largest Protestant parochial school system in America, which includes some 2,000 early education, elementary, and high schools. The LCMS is in full doctrinal fellowship with 35 other confessional Lutheran church bodies on six continents, supports missionaries in 34 countries around the globe and is a founding partner of Lutheran Services in America, an alliance of two Lutheran church bodies and their more than 300 social ministry organizations that together serve one in every 50 Americans. For more information, visit lcms.org.