By Paula Schlueter Ross

Twenty years. That's how long the Synod's Concordia University System of 10 colleges and universities nationwide has been around.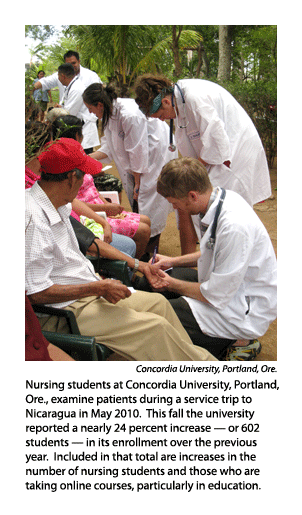 That's also how many years Concordia University System (CUS) enrollment has grown — in other words, every fall, just like clockwork.

This fall's total CUS enrollment in both graduate and undergraduate programs increased 4.1 percent — from 28,421 in fall 2011 to 29,597 this year, an increase of 1,176 students.

Both the number of graduate and undergraduate students increased — from 12,909 to 13,790 for graduate (an increase of 881 students, or 6.8 percent), and from 15,512 to 15,807 for undergraduate (up 295 students, or 1.9 percent).

"God has again blessed our institutions with strong enrollments," CUS Interim President Rev. Dr. Alan W. Borcherding told Reporter. "Since the Concordia University System was formed 20 years ago, our enrollment has grown more than four-and-a-half times — from 6,321 students to 29,597."

Along with the increase in enrollment, Borcherding said he also considers it "a blessing that the number of students who identify themselves as Lutheran has remained constant in recent years."

That figure also grew in the past year — from 4,158 to 4,189 who identify themselves as LCMS (an increase of 31 students), and from 1,970 to 2,127 who say they are "other Lutheran" (up 157 students).

Also up are the number of "other Protestant" (by 849 students, to 8,921), Roman Catholic (by 329, to 4,457), other faiths (by 104, to 899) and "unchurched" (by 197, to 1,059).

Drop in church-work students

The number of students in church-work programs continues to fall, however, from a total of 1,762 in 2011 to 1,654 this year, a drop of 108 students, or 6 percent. Except for an increase of 54 students in fall 2010, that total has been dropping for at least the past 12 years.

But gains were recorded in three vocations: director of Christian education (up 15 students, to 268), deaconess (up 7, to 32) and director of Christian outreach (up 2, to 15).

Other church-vocation totals include those seeking a Lutheran teacher diploma (down 76, to 1,056), pre-seminary students (down 34, to 178), lay ministry (down 16, to 50), director of parish music (down 3, to 28) and director of family life ministry (down 3, to 27).

Growth at Concordia, Portland

Among the six CUS schools that reported gains in enrollment, Concordia University in Portland, Ore., tops the list with a whopping 23.99 percent increase.

That growth — from 2,509 to 3,111, an increase of 602 students — is part of the school's strategic plan, according to Provost Dr. Mark Wahlers. The school's focus, he says, "is to share a Concordia experience with as many people as we can" in three academic areas: education (primarily teacher education), health and human services, and public service, which includes Concordia's new law school in Boise, Idaho.

Wahlers points to growth in all three areas, particularly the school's online component, which offers a popular Master's of Education degree — and just this year began offering several undergraduate teacher-education courses as well — and accounts for about 60 percent of the enrollment gain. The rest he attributes to the law school (with 73 first-year students) and the nursing program (with some 225 students).

Integrating faith
Another plus is that all Concordia, Portland, courses — including those offered online to students in countries as far-flung as Egypt, Mongolia and North Korea — are designed to "integrate faith and learning," Wahlers says. That includes the Concordia University School of Law, which opened this fall in downtown Boise and is currently developing a curriculum for mediation and arbitration with "a biblical-based Lutheran approach."

"We're trying to deliver a Lutheran, Christian education that has value so that people can be transformational in their lives — while they're here and also after they graduate and go into their professions in their communities," Wahlers explains. "I think that's one of the strengths of the Concordia University System as a whole, and Concordia, Portland, in particular."

Another of the school's strengths, he adds, is "preparing teachers who are making a difference in their classrooms." School districts recruit Concordia, Portland, student and graduate teachers "because they know they're different. And we know why they're different: because they're taking Jesus into that classroom."

From the schools' perspective, they're getting teachers "who care about each individual student and their families," who "do whatever it takes" to make each student successful, Wahlers says.

Dr. Charles Schlimpert, who began his 30th year as Concordia, Portland, president this fall, sums up the school's philosophy this way: "We expect our students to be on the rise as transformational leaders, and we need to expect the same of ourselves in extending a Lutheran liberal arts education to more people."

Why CUS?

The Rev. Dr. William Meyer, who served as CUS president from 1992 to 2005 and continues to serve part time with CUS in his retirement, noted that schools with programs in health professions continue to draw new students. Such programs offered by eight of the 10 CUS schools include nursing, physical therapy, physician assistant, community health science and pharmacy.

Those vocations fit right in with a Lutheran education, Meyer said, because they exemplify "what Lutheranism is really all about — caring about people."

Why should a student consider a CUS school? "Because Concordia makes a difference," he said. "It's a faith-life experience. Students have opportunities to grow in their faith, visit with professors who are mature in their faith and [take] courses [that] are built around faith.

"Their entire experience [at a CUS school] is one that has a spiritual aspect to it. And I think that's very, very important in terms of making a difference."

When compared to their public-school counterparts, Meyer says "faith-based graduates are much more concerned about their community" and do more volunteer and community service — a huge benefit to society at-large.

Individual enrollments

This fall's enrollments — including both graduate and undergraduate students — at individual CUS schools are as follows:
Concordia University, Ann Arbor, Mich. — 668 (a decrease of 43 students, or 6 percent, over fall 2011).
Concordia University Texas, Austin, Texas — 2,584 (down 74, or 2.78 percent).
Concordia College–New York, Bronxville, N.Y. — 867 (up 42, or 5 percent).
Concordia University, Irvine, Calif. — 3,519 (up 268, or 8.2 percent).
Concordia University Wisconsin, Mequon, Wis. — 7,751 (up 133, or 1.7 percent).
Concordia University, Portland, Ore. — 3,111 (up 602, or 23.99 percent).
Concordia University Chicago, River Forest, Ill. — 5,454 (up 320, or 6.2 percent).
Concordia College Alabama, Selma, Ala. — 611 (down 108, or 15 percent).
Concordia University–St. Paul, St. Paul, Minn. — 2,941 (up 141, or 5 percent).
Concordia University, Nebraska, Seward, Neb. — 2,091 (down 105, or 4.8 percent).
For more information about LCMS colleges and universities — and professional church-work careers — visit the website of LCMS University Education at www.lcms.org/cus.

Seminary enrollment

Total enrollment in all programs at Concordia Seminary, St. Louis, and Concordia Theological Seminary, Fort Wayne, Ind., combined is down this fall — from 951 last year to 897 this year, a drop of 54 students, or 5.6 percent.

Total ordination-track enrollment at the two LCMS seminaries also fell — from 740 in fall 2011 to 699 this fall, for 41 fewer students, or a drop of 5.5 percent.

But there's a bright spot in this year's enrollment report, notes the Rev. Dr. Glen D. Thomas, executive director of Pastoral Education for the LCMS: the total number of new students in the seminaries' traditional residential programs grew — from 114 last year to 140 this fall, an increase of 26 students, or 22.8 percent.

Thomas told Reporter he's "delighted to see an increase in the number of new residential students preparing to be pastors at both of our seminaries." But he added that with the number of new nonresidential students decreasing by 9 (for a total of 34), the result is a "net increase of 17 new students in ordination-track programs."

He also offered an explanation for the 40-student drop in total ordination-track enrollment: 24 of those students were the last group to proceed through the former Distance Education Leading To Ordination (DELTO) program, an alternate-route ordination-track program that was replaced by the Specific Ministry Pastor (SMP) program as a result of LCMS national convention action. SMP students take most of their courses online while they serve in a "specific ministry" capacity in a congregation, mission plant or ethnic setting.

Thomas also noted that the total number of new SMP students at both seminaries declined by 1 this fall to 25. There are a total of 143 students in the SMP program — a net decrease of 14 from last year.

That decrease, he added, "is due in large part to the completion of the program in August by the first cohort of students who enrolled in the program in 2008. There was a large surge of new students — 54, to be exact — when the program began, and subsequent years have witnessed new student enrollment in the mid-30s to mid-40s on average."

The number of graduate students studying at the seminaries has remained relatively stable, with 5 fewer this year for a total of 170, but that figure "is still very strong," Thomas said.

In fact, he added, "our seminaries are among the largest and strongest in North America and this is a testament to the blessings the Lord of the Church continues to provide for them."

Thomas said the Synod can be thankful that there are 699 men preparing to serve as pastors. "A lot of seminaries out there are praying for enrollments like ours," he said.

"We pray God's abundant blessings upon all of these students, and upon all who will be involved in the process of forming them for service as pastors."

Enrollment statistics for the seminaries individually are as follows:
Concordia Seminary, St. Louis, reported a total enrollment of 603 students (27 fewer than last year), with 485 enrolled in programs leading to ordination, a decrease of 24 students.

Its student body includes 286 M.Div. students, 19 alternate-route pastoral students, 180 nonresidential pastoral students and 20 deaconess students.

Concordia Theological Seminary, Fort Wayne, Ind., reported a total enrollment of 294 (27 fewer than last year), with 214 enrolled in programs leading to ordination (down 17).

Its student body includes 176 M.Div. students, 8 alternate-route pastoral students, 30 nonresidential pastoral students and 30 deaconess students.
For more information about the Synod's seminaries, visit the LCMS Pastoral Education website at www.lcms.org/pastoraleducation.
Posted Oct. 24, 2012