Kurt Buchholz of Glen Arm, Md., has accepted a call from the Board of Directors of the International Lutheran Laymen's League to serve as the next executive director of Lutheran Hour Ministries (LHM).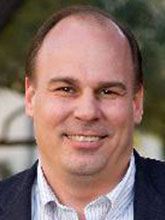 Buchholz, 43, plans to join St. Louis-based LHM Aug. 30 and will work alongside current Executive Director Bruce Wurdeman until Wurdeman's retirement at the end of the year.
Buchholz is chairman of the International Lutheran Laymen's League, the governing body of LHM. With his selection as LHM's new executive director, Buchholz will step down as Int'l LLL chairman and Vice-Chair Philip Krauss II of Westland, Mich., will assume the role. A new vice-chair will be appointed by the LCMS auxiliary's Board of Directors in the coming weeks.
Buchholz most recently served as vice-president for special initiatives and executive director of the Lutheran Malaria Initiative for Lutheran World Relief (LWR), Baltimore.
In more than two years in the position he began serving in February 2011, Buchholz led strategic initiatives in international programs, constituent engagement and internal management systems. The Lutheran Malaria Initiative is a partnership of LWR and The Lutheran Church—Missouri Synod to mobilize U.S. Lutherans in the global effort to eliminate malaria deaths in Africa.
From 1993 through 2011, Buchholz served LCMS World Mission in a variety of leadership positions, including interim executive director, where he helped reverse a decade-long trend of decreasing revenue. He also was instrumental in the rollout of the church body's Fan into Flame fundraising campaign that brought in $67 million for new mission efforts worldwide.
Buchholz has lived and worked in Taiwan in various leadership roles, including school start-up and management, and he and his wife, Jenny, served as missionaries there from 1993 to 2001.
He is a graduate of the elementary education program at Concordia University in Irvine, Calif., and received his Director of Christian Education certification and a Master of Arts in organizational management from Concordia University, St. Paul, Minn.
"We are very pleased that Kurt has accepted the call to be our next executive director, given his past successes in leading large-scale initiatives and his strong network of partnerships with leaders throughout The Lutheran Church—Missouri Synod," said Wurdeman. "He brings a wealth of experience and passion in national and international missions to this position and we are excited to welcome him to Lutheran Hour Ministries."
Having worked with the Int'l LLL and LHM in his previous positions, Buchholz said he is "excited and honored to be chosen to lead this organization at a time when we are faced with so many outreach challenges and yet provided with so many Spirit-led opportunities to reach an increasingly post-Christian culture."
He added that he has "seen firsthand how the ministry, under the excellent direction provided by Bruce Wurdeman and his leadership team, serves a unique role as 'Your Partner in His Mission' to boldly proclaim the message of Jesus Christ to a hurting world.
"I have also been blessed to know and work with many of the ministry staff over the years and I can assure you that God has brought together a very gifted group of individuals. It is truly an honor to be in ministry alongside them."
Lutheran Hour Ministries is a Christian outreach ministry supporting churches worldwide in its mission of "Bringing Christ to the Nations — and the Nations to the Church." LHM produces Christian radio and TV programming for broadcast — as well as Internet resources, print communications and a variety of other outreach materials — to reach the unchurched in more than 30 countries.
LHM's flagship program, "The Lutheran Hour" — the world's longest-running Christian outreach radio program — airs weekly on more than 1,350 stations.
For more information about Lutheran Hour Ministries, visit lhm.org.