The Rev. Dr. John F. Johnson, president of Concordia University Chicago, River Forest, Ill., since 2004, announced in April that he is stepping down from the position Aug. 16.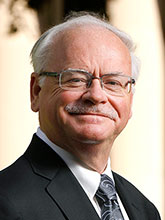 "It has been my great privilege to lead Concordia—Chicago," Johnson said. "I have been personally blessed to serve at this university during an exceptional period of growth and change. The institution stands in a strong position to continue its mission of equipping students to serve and lead with integrity, creativity, competence and compassion in a diverse, interconnected and increasingly urbanized church and world."
In an open letter to the university community, Johnson also praised its "outstanding, dedicated and talented faculty and staff members."
According to a university news release, his announcement "coincides with a 10-year commitment Johnson made to the university's Board of Regents at the beginning of his tenure."
The release notes that Johnson "is recognized for strengthening Concordia's presence globally, nationally and locally as a destination institution for post-secondary learning." And also that under Johnson's leadership, The Chronicle of Higher Education named the university as "the nation's second fastest growing campus (from 2004-09) among nonprofit master's degree-granting institutions. For the past three years, enrollment has exceeded 5,000 students, reaching an all-time record of 5,454 in fall 2012."
Much of that growth, according to the news release, was a result of Johnson's establishing two new colleges at the university — the College of Graduate and Innovative Programs and the College of Business.
Also mentioned are successful fundraising efforts for the university and establishment of its Center for Global Outreach — both under Johnson's guidance.
Johnson was elected president of Concordia—Chicago after serving (1989-90) as president of Concordia College, St. Paul — now Concordia University, St. Paul, St. Paul, Minn. — and as president of Concordia Seminary, St. Louis (1990-2004). Previously, he was the seminary's academic dean and served Lutheran pastorates in Fort Worth, Texas, and Ellisville, Mo.
Concordia University Chicago is one of 10 institutions that make up the LCMS Concordia University System.