As the July 20–25 national LCMS convention approaches, delegates can now find more information about the convention online.
One such resource is a pre-convention welcome video, available at video.lcms.org/archives/2217. The video welcomes delegates to St. Louis and encourages them to continue to be prayerful about the upcoming convention, which has as its theme "Baptized for This Moment."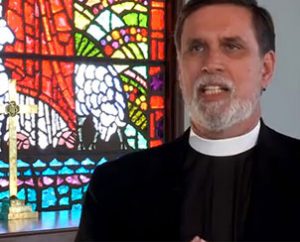 In the video, the Rev. William M. Cwirla, convention essayist and pastor at Holy Trinity Lutheran Church, Hacienda Heights, Calif., reminds viewers that even during convention, "Baptism is our identity before God, before each other and before the world … and in [this identity] we are serving God in our priesthood and serving our neighbor in love."
Other resources available pertain to the Synod's presidential election, which will be conducted prior to the convention. The Biographical Synopses and statements of each of the three candidates may be found at lcms.org/convention.
Also available online is the Convention Workbook, containing the reports and overtures to be considered by the convention. The workbook was mailed at the end of April to all delegates, alternate delegates, officers of the Synod, and members of boards, commissions and councils.
"Every member of Synod should feel not only represented, but also a participant," said the Rev. Dr. Raymond L. Hartwig, LCMS secretary. "Such participation can be even more of a reality in today's electronic times."
Referring to the online "live streaming" of the convention, Hartwig said, "More than ever before, our conventions can live up to what they were often called in times past: truly 'Synod' events."
To view and download these and other convention resources, visit lcms.org/convention.