By Joe Isenhower Jr.
MILWAUKEE – Lutheran educators need to meet.
That was obvious as more than 3,100 of them gathered from 36 states and eight other countries at the Wisconsin Center convention facility here Oct. 24-26 for Lutheran Education Association's (LEA) 11th convocation. LEA's executive director said this convocation made it "more evident" that educators need to meet.
The convocation theme was "Rise and Shine" — based on several Bible passages, including "Arise, shine, for your light has come, and the glory of the Lord has risen upon you" (Is. 60:1).
Attendees filled the convention hall for the opening event, which included recognition of those who received LEA awards over the past three years.
Among plenary speakers were keynoter Dr. Tim Elmore, an authority on educational leadership, and Synod President Rev. Dr. Matthew C. Harrison, who told the educator-attendees, "you are at the intersection of this church" and its young people.
There were numerous opportunities for participants to visit, including banquets — one in the setting of a German Oktoberfest complete with a 25-piece oompah band and another featuring ventriloquist Taylor Mason, who kept his audience in stitches with laughter. A separate convention hall filled with exhibits provided opportunities to visit, as well as to pick up resources and ideas.
Teachers, school administrators, pastors, directors of Christian education and other educators packed rooms for some 190 convocation sectional workshops spread over six sectionals — which LEA provided for their professional development.
The convocation concluded with a stirring Reformation service in the main convention hall.
Social media gained a high profile at this convocation, helping connect those at the event, as well as others off-scene. Twitter, Facebook and Instagram were put to heavy use before, during and after the event, as was Pinterest — an electronic "bulletin board" where participants could post their convocation pictures, videos and brief notes. Everyone had free access to WiFi, literally everywhere in the Wisconsin Center. Both the convocation opening event and Elmore's keynote presentation were live streamed.
In addition, there were several pre-convocation opportunities, including workshops, an LEA EncourAGEnet conference that drew 55 retired educators and others, and an LEA Global/Urban Symposium with 61 participants.
"The need for events such as convocations is more evident than ever after experiencing everything in Milwaukee," LEA Executive Director Dr. Jonathan Laabs told Reporter in an email message. "With financial challengers, community and family pressures, questions about Lutheran identity, growing global awareness and changing demographics, people need to come together more than ever before."
"Ministry is relational," Laabs continued, "and the best way to practice, celebrate and model that is actually being together."
Laabs also noted that many Lutheran schools and congregation leaders "are tempted to cut back on conferences, workshops and other face-to-face events.
"But I believe they are more critical than ever," he said, "and can be reinforced by many in-between opportunities for growth, using technology. LEA will keep working toward this goal with our convocations, administrators conferences and other workshop events in the future."
After 27 years of convocations in springtime, LEA leaders "decided that a change was in order," Laabs explained, adding that the switch to a fall conference offers a "time frame that is more typical for education conferences." He added that the next convocation is being planned for fall 2016.
Nancy Blackard, a second-grade teacher at Grace Chapel Lutheran School in St. Louis, was here for her fourth LEA convocation.
She told Reporter via email that the most valuable thing she took home this year is "the bond that was made between our faculty while there. We have many new teachers on staff this year and it was a wonderful time to get to know each other better."
Blackard found "all the speakers very interesting. … I was surprised at how much I learned."
"I also love going to LEA convocations for fellowship and [seeing] old friends," Blackard told Reporter.
She added that she uses her LEA membership for devotions and its listserv, where "you can ask a question and someone out there will tell you what works for them. It is nice to be able to get so many different responses from experienced teachers."
Todd Moritz, executive director of Orange Lutheran High School, Orange, Calif., was attending his first LEA convocation.
He said that the most practical thing he learned from it was that "students are changing and learning is changing. We as schools and educators must change, too."
Moritz and others may have drawn such conclusions after hearing Elmore relate in his keynote how educators need to adjust their approaches in an age when students have instant access to information with smartphones and other devices to help them stay in touch, but are often in physical isolation from others. Elmore also spoke of today's children who are taught by parents and others that they can do anything, while being protected by adults from taking risks.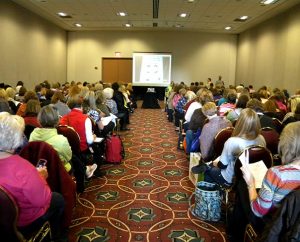 Among Elmore's suggested solutions for educators is that they be like "velvet-covered bricks" — gracious, loving and supportive while adhering to strong principles and biblical standards.
Moritz said the most practical thing he took home from the convocation was encouragement to "harness the power of social media."
He added that he is "excited" to view LEA as "an organization that is committed to sharing Jesus and developing future leaders."
Rich Schwantz, a fourth-grade teacher at Concordia Lutheran Elementary School in Fort Wayne, Ind., and a five-time convocation attendee, led a sectional workshop at this convocation on incorporating genealogy into the elementary-school curriculum. He said that teaching tool "has established stronger connections between family members of multiple generations, especially as parents and grandparents share stories of faith and traditions in their family over time."
Most valuable to Schwantz at this year's convocation was "collaborating with many teachers" after his presentation about various ideas for including genealogy in their teaching. "As a result," he wrote via email, "I look forward to being in touch with many teachers nationwide over the next several months, sharing ideas and developing our curriculum based on that collaboration."
He indicated that most practical for him was the way "one presenter showed how easy it is to stay in contact with parents through social media."
Schwantz added that he heard many convocation participants remark about the large number of "quality, interesting sectionals, making it difficult to choose only one."
Like Blackard, Schwantz is an LEA member who appreciates its opportunities for sharing with peers through the organization's networks. Specifically, he does so through the elementary-education and leadership networks.
Schwantz said he considers each LEA convocation a "mountaintop experience."
Stephen Rudolph and Shane Paterson were among eight Australian Lutheran educators at the convocation and Global/Urban Symposium. Both are officers of Lutheran Education Australia (also known as "LEA") – which Rudolph describes as having "a loose but important friendship" with its American counterpart.
Rudolph is his LEA's executive director, and Paterson is its assistant director: leadership.
Rudolph told Reporter that the Australian LEA "reports and is responsible to the Lutheran Church of Australia" and that it also has a triennial gathering similar to the stateside convocations known as the "Australian Conference on Lutheran Education."
What's the most valuable thing that Rudolph took back to his country from the convocation? "The commitment of USA Lutheran educators to their Christian service in and through Lutheran schools," he answered, adding that he found the Global/Urban Symposium "a valuable experience."
One highlight of the convocation for Paterson was "being in the same place with 3,100 educators who have the same vision and purpose in Lutheran schooling. There is a unity or 'oneness' in that," he wrote to Reporter. Other highlights for him were the closing worship "with its colour [sic] and music." He added that "the way that we were welcomed by the attendees made us feel welcome and a part of the convocation."
Australian educators also visited among five Milwaukee Lutheran schools that band together for what is known as the Lutheran Urban Ministry Initiative (LUMIN).
"The ministry this group is performing is amazing," Paterson said.
They also visited Concordia University Wisconsin at nearby Mequon and Concordia University Chicago, in River Forest, Ill.
"To be able to visit both … campuses was terrific," Paterson added.
"One of the things that always impresses me about Lutheran schooling in the States is the boldness and openness [with which] educators talk about their faith and their ministry," Paterson wrote, adding "we would love to welcome American educators to Australia. We believe we have a strong system and would love to share that with others."
Harrison's appearance at the convocation's opening-day banquet was one of several "surprises" planned for the event, according to Laabs. Also attending the convocation opening were some 15 LCMS district presidents who were in town for a scheduled regional meeting together.
After he came to the stage, Harrison played his banjo, leading the assembly in several numbers including "This Little Gospel Light of Mine" and "A Mighty Fortress Is Our God."
He told the Lutheran educators to "take heart" as they carry out their vocations as faithful baptized believers faced with negative influences on young people and tight budgets.
"You are at the intersection of the church and the many young people who need you so much," he said. "I'm proud of this church and proud of you for what you do. Take heart."
In his sermon for the closing worship, the Rev. Timothy "Tim" Klinkenberg, pastor of St. John's Lutheran Church, Orange, Calif., pointed to the differences between "cheap grace" and "costly grace."
As an example, he said that cheap grace is exhibited when people don't want to be held accountable for their actions, such as when they say that they are "really sorry" for ever hurting someone with their words or actions, and that they "have" to be forgiven by others.
Klinkenberg said that the ultimate example of costly grace is God sending His Son, Jesus, to suffer and die for sinners.
"The grace that we proclaim, the grace that we need, the grace that forgives, the grace that releases us from the power of sin and death and the old evil foe is that grace that was delivered in Christ on the cross for you, for me, for the people we serve, for the whole world," Klinkenberg said.
"The grace that you have exhibited over these last three days and the love and joy you have in ministry serving Jesus Christ has been profound," he told the assembly. "It's a moving, moving thing."
The closing service included musical accompaniment from the Wind Symphony of Concordia University Chicago, the "Kammerchor" (chamber choir) from Concordia University Wisconsin and liturgical dancers from Martin Luther High School in Greendale, Wis. Other musical groups from Lutheran schools provided accompaniment at other convocation sessions.
The total offerings of $6,720.71 gathered at the convocation will support Lutheran schools in Haiti.
LEA is an LCMS Recognized Service Organization of professional church workers in a variety of educational ministries, also including volunteers, retired educators and students preparing for educational ministries. For more information about LEA, visit lea.org.
Posted Nov. 22, 2013