Two days before heading to the typhoon-ravaged Philippines with an eight-member LCMS disaster team, the Rev. Ross E. Johnson was installed as director of LCMS Disaster Response Nov. 13 at the LCMS International Center in St. Louis.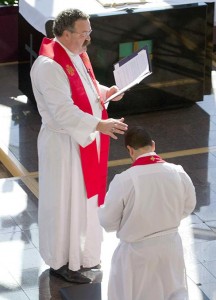 Synod President Rev. Dr. Matthew C. Harrison performed the rite of installation, preaching on Matthew 25, where Jesus talks about separating the sheep and the goats.
"Ross, you are entering a challenging area of work," Harrison said, after describing some of the suffering he witnessed following the Asian tsunami and the Haiti earthquake. "You're going to be away from your family too much. … That's your vocation. The Lord has put you there."
Johnson said he is humbled by the opportunity to serve the LCMS.
"The thing I love about this position is being able to express the love of Christ in tangible ways when people are suffering and in need," he said. "Christ tells us as Christians to love our neighbor as ourselves, and through LCMS Disaster Response, 2.3 million members partner together to impact this broken world in the name of Christ."
Johnson will succeed the Rev. Glenn Merritt, who has served as director of the LCMS' disaster-response ministry since 2003 and will retire June 30, 2014.
"I'm thankful that Ross has been called to this position as I prepare to retire," Merritt said after the installation. "As I've gotten to know Ross over the past two months, I've become more and more confident with the call that was extended to him and his skills and abilities."
Johnson, who began his new duties Sept. 3, oversees the church's comprehensive disaster-response program, including planning, training and implementing immediate and long-term responses to help people in the aftermath of disastrous events wherever they occur, such as Typhoon Haiyan, which pummeled the Philippines Nov. 8, leaving a broad path of destruction.
Additionally, Johnson facilitates relationships with federal, state and community disaster-response agencies; consults with LCMS districts, congregations and international church partners to prepare for and respond to natural and man-made disasters around the world; and makes available pastoral care in the field while responding to a disaster.
Johnson is part of the first LCMS team to go to the Philippines since the typhoon. The team is set to leave Nov. 15 and will work with members of the Lutheran Church in the Philippines (LCP), an LCMS partner church, to determine the best way to respond to the storm both immediately and long-term. The LCMS has committed up to $150,000 in immediate relief.
Johnson previously served as pastor of Redeemer Lutheran Church, Fairhope, Ala. (2006-13), after graduating from Concordia Theological Seminary, Fort Wayne, Ind. He served his vicarage in Guatemala and Venezuela, working as a church planter and theological educator for the LCMS. Also, Johnson joined the U.S. Army Reserves in 2002. He served as a reserve chaplain in 2009. In 2012, he and his battalion were deployed to Kuwait and Afghanistan.
In addition to holding a Master of Divinity degree, Johnson earned a bachelor's degree from Vanguard University, Costa Mesa, Calif.
Johnson and his wife, Mireya, live in St. Louis and have two children.
The director of LCMS Disaster Response position was included in the Synod's restructure and is covered by the Synod's budget.
Updated Nov. 14, 2013