Volunteers are needed to staff five Mercy Medical Teams (MMTs) that will serve in Madagascar, the Dominican Republic, Kenya and Kyrgyzstan in 2014.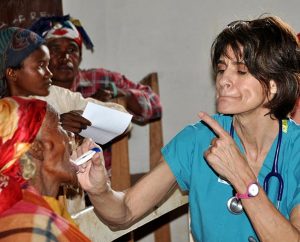 This short-term medical-mission program is intended to enhance medical care in underserved regions around the globe. Since the program's founding in 2006, primary-care MMTs have served more than 20,000 clients in Africa, Asia, Central America and the Caribbean.
Three of the upcoming teams will do clinical work: staffing mobile primary-care clinics that treat people with malnutrition, parasites, dysentery, HIV/AIDS, wounds, infections, malaria and other illnesses.
The other two teams will perform education-related tasks: training indigenous medical practitioners, teaching positive health habits and emphasizing preventive care in urban and rural communities.
MMTs include doctors, nurses, pharmacists and other medical professionals as well as pastors and other nonmedical volunteers. They work alongside LCMS partner-church leaders and international health-care providers to address "body-and-soul needs."
Dates for the upcoming trips are:
March 13-23 to Madagascar, Africa (clinical team).
May 5-12 to the Dominican Republic, Caribbean (educational).
June 6-16 to Kenya, East Africa (clinical).
Sept. 13-23 to Kyrgyzstan, Eurasia (educational).
Oct. 16-26 to Madagascar (clinical).
All current and former MMT volunteers also are invited to attend an Alumni and Leadership Reunion and Retreat in Dallas at a time to be determined in July.
"Mercy Medical Teams provide a way for health professionals and others to exercise their skill sets in a challenging but very rewarding way as they care for others in Christ's name," said Maggie Karner, director of LCMS Health Ministries, which administrates the MMT program. "Typically, our volunteers return surprised that they received much more through service than they felt they were able to give. They also come home with a renewed sense of passion for their vocation of healing both body and soul."
MMT members are responsible for their own airfare costs and a "ground fee" for meals, lodging and local transportation in the host country. The ground fee averages about $1,500 per person.
No experience is necessary, and anyone is welcome to join an MMT. "As long as you have a passion for service and are willing to work as a team, we can use your help," reads an answer to an MMT FAQ online.
In addition to an FAQ page, the MMT website offers an informational brochure, an application form, recruitment posters, photos of MMTs and a video. Those who are interested also can register to receive emails about upcoming MMT service opportunities.
For more information, send an email to mercyteams@lcms.org or call Tracy Quaethem at 800-248-1930, ext. 1711.