The Rev. Dr. Ihno A. Janssen, a retired pastor and former member of the Synod's Board of Directors (1981-85), died Oct. 22 in Sonora, Calif., following a brief period of declining health, for which he was in hospice care at a retirement center.  He was 95.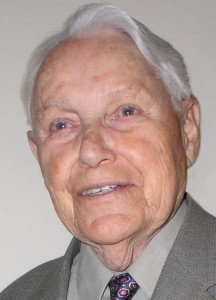 A memorial service was held Nov. 2 at West Portal Lutheran Church in San Francisco, which he formerly served as pastor (1959-82).  As Janssen had requested, his body was cremated and the ashes were interred at Oakmont Memorial Park in Lafayette, Calif.
Following his graduation from Concordia Seminary, St. Louis, in 1945, Janssen was a missionary at-large in New York City for the LCMS Atlantic District (1945). He then served a parish in Philadelphia (1945-54) before becoming executive secretary for the LCMS English District in Detroit (1954-58).  Later, he was pastor of Pilgrim Lutheran Church in St. Paul, Minn. (1958-59). In addition, he was the founding pastor of Messiah Lutheran Church in Danville, Calif. (1982-87).
Also for the Synod and the English District, Janssen served at various times on boards and commissions for evangelism, stewardship, church literature and doctrinal review, and he was on a reconciler team for the Synod.
After his retirement in 1987, he opened Christian Counseling Services in Danville, Calif., and counseled individuals and families until 1998.
Janssen earned a master's degree from California State University, San Francisco, in 1967, and a doctorate in education from Santa Barbara University, Santa Barbara, Calif., in 1977. He received two Doctor of Divinity honors — from Concordia Theological Seminary, Fort Wayne, Ind., in 1980 and from the LCMS English District in 2012.
Survivors include his wife of 68 years, Shirley (nee Till), of Sonora; three daughters — Judith (Bill) Wilson, Sonora; Jerolyn Janssen, Oxnard, Calif.; and Janelle Janssen, San Diego — a son, Jonathan Janssen, San Jose, Calif.; four grandchildren; one great-grandchild; two brothers and a sister.
In an email to Reporter, the Rev. Dr. David P. Stechholz, bishop and president of the LCMS English District, expressed the district's thanks "to Almighty God for the faithful ministry of the Rev. Dr. Ihno Janssen. … He was a tremendous visiting pastor, beloved by his parishioners and he served as a wonderful model for me and many other pastors. … [He] had a sharp mind, a great preaching ability to teach the Word of God in ways that people could easily understand and apply to their lives. He especially loved Christian day schools and was truly a pastor who could be called 'a school man.' … Even though he was virtually blind [in later years], he had eyes of faith that could see the Savior's abiding love for him, his beloved wife and family, and the people of God. He had an amazing sense for missions locally and globally and led congregations to be strongly supportive of mission support to Synod and District."
Stechholz also noted that Janssen "knew me virtually all of my life [until his death]." He recalled that Janssen preceded him as pastor at Messiah, Danville, and West Portal, San Francisco, and had served in ministry with his father in New York City.
Judith Wilson wrote to Reporter that her father "was well known as an affable and caring individual who constantly visited his parishioners and was out in the community meeting people and attending events. He leaves a large contingent of former students, colleagues and parishioners, many of whom remained in contact with him in his later years. Many couples remember him as the pastor who married them; and a recent reunion event determined that he performed more than 1,000 weddings over his 60-year pastoral career."
The family suggests that memorial contributions in Janssen's name be directed to the Student Aid Endowment Fund at Concordia Seminary, 801 Seminary Place, St. Louis, MO 63105.