The Rev. Dr. Robert C. Sauer, who served more than a decade as an LCMS vice-president under three different Synod presidents, died Thursday, Sept. 19, of pneumonia. Sauer, of St. Charles, Mo., was 91.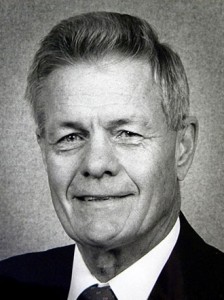 A funeral service was held Sept. 24 at Chapel of the Cross Lutheran Church, St. Peters, Mo. Burial will be at Oak Hill Cemetery in Neenah, Wis., with a U.S. Air Force Honor Guard.
Synod President Rev. Dr. Matthew C. Harrison participated in the funeral service and spoke there on behalf of the Synod.
Sauer served one term as LCMS fourth vice-president (1977-79) under then-President Rev. Dr. J.A.O. Preus; two terms as first vice-president (1981-86) under then-President Rev. Dr. Ralph A. Bohlmann; one term as third vice-president (1989-92), also under Bohlmann; and one term as fourth vice-president (1992-95) under then-President Rev. Dr. A.L. Barry.
He also served as an assistant to the LCMS president (Preus) from 1974 to 1981, and one term as a vice-president for the LCMS Missouri District (1987-89).
A 1948 graduate of Concordia Theological Seminary, then in Springfield, Ill., Sauer received an honorary Doctor of Divinity degree from Concordia Seminary, St. Louis, in 1976.
He was a U.S. Air Force chaplain during the Korean conflict, and served 25 years in parish ministries in Taylorville and Palatine, Ill.; Milwaukee; and Pittsburgh.
During his ministry, Sauer was on a number of national LCMS committees, serving as chairman for those on Hymnal Review and Catechism Revision. He also authored two volumes of Daily Prayer for Lutheran pastors; The Church Takes Shape, a study of church history for Lutheran high school juniors; and Exploring Luther's Small Catechism, a workbook for catechumens.
"Dr. Sauer was a strong supporter of the Synod's doctrinal position, worship practices and mission," said LCMS President Emeritus Bohlmann. "As the right-hand man to two Synod presidents, he served faithfully and well in a wide range of responsibilities. His friendship and support will be greatly missed."
Sauer's wife of 64 years, Joyce, told Reporter her husband was "Mr. Wonderful" and the two shared "many blessings" over the years.
"I always said that my dad was my Rock of Gibraltar, but my husband was, too," she said. "He was a wonderful provider, a wonderful pastor and husband. We had a wonderful life together. And I'm very thankful and feel very blessed. I loved him dearly."
Survivors include twin daughters Sharman (Donald) Klinefelter and Sheryl Sauer, both of St. Charles, Mo.
Memorials may be made to Concordia Seminary, St. Louis; Concordia Theological Seminary, Fort Wayne, Ind.; and KFUO Radio, St. Louis.
Updated Sept. 24, 2013 / Sept. 26, 2014