Terry L. Schmidt will begin serving July 1 as director of LCMS School Ministry.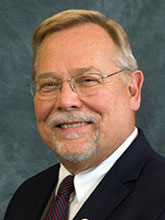 Schmidt, associate director of School Ministry since 2003, will succeed Dr. William Cochran, who plans to retire June 30 after 11 years in the post.
In his new position, Schmidt will oversee the ministry — which serves more than 2,335 LCMS schools across the country — as it works to assist, equip and uplift educators and church leaders in their vocation of developing children as disciples of Jesus Christ. He also will oversee the ministry's work to advocate for professional excellence, provide relevant resources and services, and build collaborative systems of service and support.
"LCMS School Ministry has been richly blessed by Terry's service and ministry. His work with National Lutheran School Accreditation has been exemplary. Terry is the ideal person to now take the helm and lead School Ministry in new directions," said the Rev. Bart Day, executive director of the LCMS Office of National Mission. "Terry thinks outside the box and gets things done. He will bring his experience, relationships and enthusiasm to the task of expanding support for our Lutheran schools."
A 1972 graduate of Concordia Teacher's College (now Concordia University Chicago), River Forest, Ill., Schmidt earned a Master's of Educational Administration and Supervision degree from Southern Illinois University, Edwardsville, Ill., in 1985.
He has served as an English and physical-education teacher and athletic director at Karkar High School, Papua New Guinea, (1973-74); as athletic director (1975-84) and principal (1984-90) at Trinity Lutheran School, Edwardsville, Ill.; and as principal at Our Redeemer Lutheran School, Wauwatosa, Wis. (1990-2003).
In addition to his work on the LCMS School Ministry staff, Schmidt has served as a member of the board of the Lutheran High School Association of Milwaukee (1993-99) and a member of the Lutheran School Advisory Council (1997-2000). In 2000, he received the Christus Magister award, given annually by the Lutheran Education Association to Lutheran educators who have made significant contributions to Lutheran education.
LCMS schools are operated by the church body's congregations. The 2,335 LCMS schools nationwide include 1,376 early childhood centers, 871 elementary schools and 88 high schools, with a total enrollment of nearly 231,000 students.