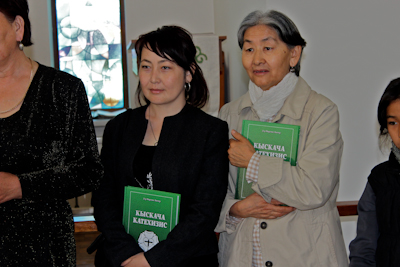 On April 21, 2013, several Kyrgyz-speaking members of the Lutheran Church Concordia (LCC) ventured from their villages and towns into Bishkek to help celebrate the completion of the Small Catechism with explanation in Kyrgyz. Bishop Kenjebek Botobaev showed the unique nature of the LCC by preaching his sermon while alternating between two languages, Russian and Kyrgyz, for those gathered for the worship service.
After the service, Bishop Botobaev, praying in Kyrgyz, and Pastor Jakub Mamedov, in Russian, oversaw the dedication of the Small Catechism books. Rev. Jon Muhly, LCMS area facilitator for Russian and Central Asia, addressed those gathered, exhorting them to supplement their reading of God's Word by studying the catechism, as well as greeting them on behalf of their brothers and sisters in Christ in the LCMS. Afterwards, the catechisms were distributed to the Kyrgyz-speaking members, many of whom expressed their appreciation for this resource in their native language. Additionally, the catechisms are being delivered to the numerous groups and members who were unable to attend the Sunday celebration.
A special thanks is in order to the Lutheran Heritage Foundation for their partnership with the LCC and the LCMS in the work of producing this catechism.
Praise the Lord for this new resource available to the Lutheran Church Concordia and its members!
Support efforts of the LCMS in conjunction with local churches in Kyrgyzstan.