By Adriane Dorr
"You've been brought to this moment in your life; the Lord has you pruned and ready," LCMS President Rev. Dr. Matthew C. Harrison told three men as he preached for their installation service Aug. 19 at the LCMS International Center in St. Louis.
The three are Mark Cannon, senior vice-president of Finance and Administration for the LCMS Foundation; the Rev. Michael Meyer, the Synod's manager of Disaster Response; and Terry Schmidt, director of School Ministry.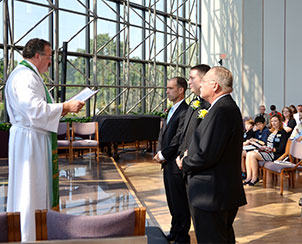 "These positions will bring difficulties, challenges," Harrison told them. "But the Lord gives strength. The Lord helps. He has brought you here for this moment."
A St. Louis native and a member of St. Paul's Lutheran Church, Des Peres, Mo., Cannon has a nearly 15-year background in the banking industry.
"I am happy to be joining such a strong and committed team here at the Foundation," Cannon said. "The Foundation has done a terrific job over the years to support the ministry of the Lutheran Church. It's exciting to be in a role where I can have such a direct impact on the church and its future."
A certified public accountant, Cannon also holds a Bachelor of Arts in Economics from Washington University, St. Louis, and a Master of Arts in Economics from Vanderbilt University, Nashville, Tenn.
Meyer is a graduate of Southern Methodist University, Dallas, and Concordia Theological Seminary, Fort Wayne, Ind., and joins the LCMS staff following his first call to Emmaus Lutheran Church, Denver, Colo.
"Disaster Response is an integral part of what we do and who we are as church," he said. "When one part of the body of Christ suffers, we all suffer."
"The Apostolic Church serves as an example for us. Those who were able gathered offerings for the saints in Jerusalem who were suffering," Meyer explained. "Coordinating our response efforts allows us to respond quickly and efficiently as a church body in ways that simply aren't possible as individuals or congregations walking alone."
Schmidt, who most recently served as associate director of School Ministry, graduated from Concordia Teacher's College (now Concordia University Chicago), River Forest, Ill., and earned a Master's degree in Educational Administration and Supervision from Southern Illinois University, Edwardsville, Ill.
"The Lutheran Church–Missouri Synod has a long history of rich tradition that is tied to Lutheran schools," Schmidt said. "With gratitude to God, I am honored to become the director of more than 2,300 early childhood centers, elementary schools and high schools."
"It is a challenging time for Lutheran schools," he said. "But I envision a future where our schools may become even more important as they are used as tools to revitalize our congregations and engage our communities."
"Those of us here will pray [for you]," Harrison promised the three at the conclusion of his sermon. "We shall ask today that the Lord will bless you … and that your service will be a joy and a blessing."