A new campus-ministry page on the "LCMS U" website — at lcms.org/lcmsu/findcampus — offers two tools designed to help students find LCMS campus ministries at colleges and universities nationwide:
The "LCMS U Campus Map" identifies all of the Synod's official, registered campus ministries. Click on the "school house" marker located in the area you're searching and you'll find local contact information, including the name and addresses of schools, campus-ministry workers, phone numbers, website addresses and Facebook pages.
If you can't locate an LCMS campus ministry or worker at a particular school, the "LCMS U Campus Link" form allows students, parents, home pastors and others to provide information about a student that will be shared with an LCMS campus-ministry worker in the area. If there is no campus worker there, an LCMS U coordinator will contact the student and provide information and suggestions for maintaining a Lutheran connection on that campus.
Information on the form is confidential and will be shared only with LCMS campus-ministry and LCMS U workers.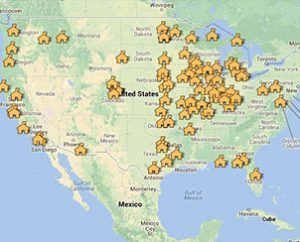 LCMS U is the campus-ministry initiative of The Lutheran Church—Missouri Synod that operates under the auspices of the Synod's Office of National Mission (ONM). The goals of LCMS U are to establish a network of campus ministries, promote student involvement in campus ministry, and offer training for campus-ministry workers as well as national conferences for those involved in campus ministries.
The Rev. Bart Day, executive director of the ONM, said "the most critical need" in LCMS campus ministry is "linking our college students with our Lord."
Day added that he believes the new Web-based campus-ministry tools "will be a huge step forward in supporting our college students during the most formative years."
The Rev. Marcus T. Zill, coordinator for LCMS Campus Ministry/LCMS U, told Reporter that "now is the time" — before the fall term starts — for students to connect to an LCMS campus ministry.
"There is nothing more important for students than getting them integrated at a church home away from home while they are in college," Zill said. That's especially true for freshmen, he said, "since the habits that college freshmen form in their first four to six weeks will tend to stick with them — whether good or bad — for the rest of their time during college."
Early friendships are important, too, according to Zill: "Most of the closest significant individuals in a student's life will be those that are there with them from the beginning. This is why those of us who work in campus ministry want to connect with students as early as possible, preferably way before they step onto the campus itself."
Acknowledging that "there are many incredible opportunities on campuses to witness to unbelievers and share the Gospel with those from foreign lands," Zill added that "Job number one is to not lose our own confirmed youth. They are our future."