By Megan K. Mertz
Thomas W. Wrege, principal of Trinity Lutheran School, Utica, Mich., is among 61 "National Distinguished Principals" chosen by the National Association of Elementary School Principals (NAESP) for 2013.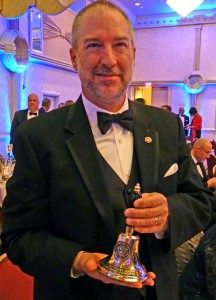 Wrege is the only Missouri Synod principal to receive the award this year, and one of only five from private schools. Two others are from overseas schools with the U.S. Department of State, while the other honorees represent public schools from all 50 states.
"Tom was selected as the LCMS nominee because he has demonstrated outstanding leadership on a school, district and national level," said Terry Schmidt, director of LCMS School Ministry. "Leadership is an essential quality that is present in any effective Lutheran school. Recognizing our best leaders allows us to celebrate their success and provides motivation for others to aspire to become better leaders."
According to the NAESP website, the distinguished principals program was "established in 1984 to recognize and celebrate elementary and middle-level principals who set high standards for instruction, student achievement, character and climate for the students, families and staffs in their learning communities."
Wrege has been a Lutheran educator for 29 years — first as a teacher and later as a principal. Before coming to Trinity in 2008, he served other Lutheran schools in Michigan, Indiana, Pennsylvania and Kansas. In addition, he is both a graduate and a mentor of LCMS School Leadership and Development (SLED), which equips Lutheran educators to become school administrators.
A 1985 graduate of Concordia University, Nebraska in Seward, Neb., Wrege earned a master's degree in education from Butler University in Indianapolis.
Wrege said he thought he was chosen for the award because of his "broader view of leading a ministry," which was honed during his service in the U.S. Air Force and as a Calvin College Van Lunen Fellow.
During his tenure at Trinity, Wrege has been instrumental in transforming the school's culture and instituting a Gospel-based discipline policy. By starting programs for child care and gifted students, as well as improving the curriculum, Trinity's enrollment has grown by 27 percent since 2008 — a turnaround after nearly a decade of decline.
Among those recommending Wrege for the award were the mother and father of several former Trinity students, who wrote: "As parents, we could not have asked for a better or more qualified individual to be the principal of our children's school. They have been well prepared academically to meet the demands of high school because of the high standards for learning and curriculum that Tom has maintained at Trinity."
An administrator at a nearby Lutheran school also wrote: "Tom is an educator who has a heart for the educational community as a whole, not simply the community within the walls of Trinity Lutheran School."
The 61 honorees met with government education officials during an Oct. 24-25 program in Washington, D.C.
During the awards banquet on Oct. 25, Wrege received a framed certificate and an engraved teachers bell. His wife, Keven, accompanied him to the ceremony.
"My greatest hope is that [the award] would benefit not only our school here in Utica but also the kingdom," he said. "I take no credit for it."
Instead, Wrege indicated that he gives all the glory to God.
Megan K. Mertz is a staff writer with LCMS Communications.