By Megan Mertz
SAN ANTONIO — This city's downtown was a sea of bright-blue backpacks as some 25,000 Lutheran youth and adult leaders, volunteers and other participants arrived for the 12th triennial National LCMS Youth Gathering July 1-5.
The theme of the Gathering was "Live Love(d)," based on 1 John 4:9: "In this the love of God was made manifest among us, that God sent his only Son into the world, so that we might live through him."
Each evening, thousands of youth and adult leaders filled the Alamodome for a "Mass Event," where Bible study was led by the Rev. Daniel Weber, associate pastor at King of Kings Lutheran Church in Omaha, Neb. Special guest speakers included the Rev. William Yonker, Mia Koehne and Jessica Stevens. The Rev. Dr. Matthew C. Harrison, president of The Lutheran Church—Missouri Synod, was the preacher for the Divine Service celebrated on Thursday. The host congregation for that service was St. Paul Lutheran Church, San Antonio, which is celebrating its 100th anniversary in 2013.
Wyatt Brooks, a participant from Prince of Peace Lutheran Church in Orlando, Fla., described the excitement of seeing so many Lutheran youth at the Mass Events. "It's amazing how we are all so similar and believe in the same things even though we come from different places," he said.
International participant Erin Hsu, who came from Taiwan, said, "In Taiwan, only about 4 percent of people believe in Jesus. If you are a Christian, you're not so cool … . The best part [about the Gathering] is seeing people who believe in Jesus."
This year's Gathering participants came from 49 U.S. states and 13 other countries.
Through daily themes, participants learned how sin separates them from God, but how God loves and saves them through Jesus' death and resurrection, sending them out to "live love" to others.
"We, the baptized and beloved of God in Jesus Christ, are called to live loved, to live love and to go make a difference," said Yonker, pastor of Immanuel Lutheran Church, East Dundee, Ill., during the closing Mass Event on July 5.
In many ways, the 25,000 participants did go and live love throughout the week.
Some 5,000 youth and adult leaders volunteered at more than 100 off-site servant events, donating an estimated 20,000 volunteer hours to the San Antonio community. Service projects included making home and building repairs, building a baseball field, cleaning up flood debris, repairing a preschool playground and assisting at senior-living facilities.
"How better to live out the love Christ has for us than to serve Christ's people?" said Patti Mitschke, director of servant events for the 2013 Gathering. "It's a way for kids to put their faith in action."
In addition, as part of the Gathering's "experiential-learning" aspect in the Henry B. Gonzalez Convention Center, Lutherans packed thousands of items for individuals and families in need, including:
323,000 meals for Feeding Children Everywhere;
1,500 personal-care kits for area shelters and community organizations; and
1,140 school-supply kits for local students in need.
They also donated 1,006 units of blood for Texas hospitals, wrote 500 thank-you cards for members of the military and got 64 haircuts for Locks of Love.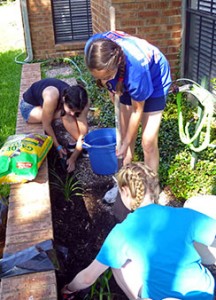 Gathering participant Tasha Henck, from Christ Lutheran Church, Pipe Lake, Wis., said she enjoyed "the opportunity to come here and serve so many people."
"I was able to give blood. I was able to donate my hair. I'm able to give everything up for God, and it's really, really a great feeling," she said, as she participated in a servant event at King of Kings Lutheran Church here Wednesday, July 3.
In addition, Gathering participants collected $100,000 for a special offering to fund more than 100 local service projects, ongoing domestic and international outreach efforts among young people, the work of the Lutheran Malaria Initiative and a legacy gift to the LCMS Southern District for ongoing rebuilding in New Orleans following Hurricane Katrina.
"San Antonio was thrilled to welcome back the National LCMS Youth Gathering, San Antonio's second-largest convention of the year," said Casandra Matej, executive director of the San Antonio Convention and Visitors Bureau. "One of the most important things that the National Youth Gathering contributed to our community — besides a tremendous local economic impact — was the numerous service projects and charity events that directly benefited the people of San Antonio. We are extremely grateful for their willingness to give back to their host community."
Early on the morning of July 4, more than 3,000 runners — a record number for the event — participated in the Gathering's 5K run/walk to benefit the Lutheran Malaria Initiative, a partnership of Lutheran World Relief and the LCMS. The event raised $30,600 to provide education and treatment to help end malaria deaths in Africa.
Ryan Kearns of St. Paul Lutheran Church, Mount Prospect, Ill., won the 5K with a time of 16 minutes and 33 seconds.
Later in the day, some 200 Gathering participants attended a naturalization ceremony held by the city of San Antonio. The LCMS youth waved American flags and carried welcome signs as 51 people from 16 countries became citizens of the United States.
"I thought it was really cool, especially on the Fourth of July," said Victoria Bruick, a participant from St. John's Lutheran Church in Bakersfield, Calif. "It gave us a chance to interact with the community here."
Throughout the week, participants also had opportunities to attend sessions ("Interest Centers") on topics youth deal with in their day-to-day lives, such as bullying and trusting God. The Gathering Academy also gave teens the opportunity for in-depth study of God's Word.
"The Gathering is very much more than a good time," said the Rev. Dr. Terry Dittmer, director of Youth Ministry for the LCMS. "It's about faith in Christ and how He moves us to live. When you look at what Gathering participants contributed to the community and causes around the world, you can easily see that our youth and adults really understand what it means to 'live love.' "
The next National LCMS Youth Gathering is planned for July 16-20, 2016, in New Orleans.
To view photos from this year's Gathering, click here.
Updated July 16, 2013