The 2014-15 edition of "Chapel Talks for Lutheran Schools," titled STAND in Mercy, is now available for order from LCMS School Ministry in soft-cover print and PDF formats.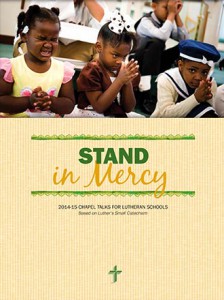 Written by the Rev. Bob Riggert, a former Lutheran school teacher, principal and parish pastor, the 2014-15 edition contains 43 weekly devotions based on Luther's Small Catechism, plus special messages for the opening and closing chapels of the school year.
Along with a message, each of the 45 devotional outlines also offers Scripture readings, a prayer and an associated hymn from both Lutheran Service Book and All God's People Sing.
With its focus on the catechism, the new edition is suitable not only for school-wide devotions, but also for use with midweek classes and Sunday schools, or during congregation- or school-staff devotions.
"Chapel Talks will be an excellent resource for our Lutheran schools and the students and families we serve," said Dr. Bill Hinz, director of School Ministry for the LCMS Texas District. "The topics are well chosen and will connect with our students as the topics communicate important biblical truths. The author, Rev. Robert Riggert, understands how students learn and retain information."
Of STAND in Mercy, Mark Brink, executive director for School Ministries for the LCMS Florida-Georgia District, said, "Each chapel talk reinforces from a more youthful perspective the readings that many children will hear in worship on the weekend. Perhaps more importantly, they communicate the invaluable message of God's love and mercy to those whose worship life is inconsistent or nonexistent. The concise format is easily adaptable to various age groups and to the creativity of the chapel presenter."
The soft-cover booklet is $20 per copy and the PDF is $15. Those who purchase either version may reproduce the Chapel Talks for use in schools and congregations.
An order form for Chapel Talks 2014-15 was mailed to all Lutheran schools this spring.
Payment must accompany each order — either by check (made out to "LCMS School Ministry") mailed to LCMS School Ministry — Attn: Chapel Talks, 1333 S. Kirkwood Road, St. Louis, MO 63122-7295; or by credit card (Visa or MasterCard) through the LCMS Online Store at http://store.lcms.org.
For more information about Chapel Talks, contact Matthew Bergholt of LCMS School Ministry at 800-248-1930, ext. 1285,or by email at matthew.bergholt@lcms.org.
Posted July 24, 2014