Among the goals identified by 15 members of the LCMS Black Clergy Caucus attending a Jan. 28-29 meeting in St. Louis is to be more intentional about reaching out to African immigrants.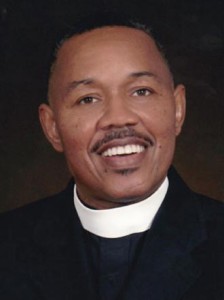 Caucus members agreed to "make a concentrated effort to communicate with all the ethnic pastors and make sure that they are included in our mailings and mail correspondence," according to the Rev. Donald E. Anthony, past chairman of the caucus.
The caucus also pledged to:
"be more inclusive" in worship styles during their annual meetings and biennial Black Ministry Family Convocations.
review and perhaps modify its name "so that it does not appear to exclude the African immigrant community."
"be sensitive to one another and be inclusive and intentional in all of our meetings and gatherings."
encourage black-ministry congregations to invite African immigrants to share their building space and attend worship services.
encourage African immigrants to attend the upcoming Black Ministry Family Convocation, set for July 9-13 in Kansas City, Mo.
Other "focus areas" include:
finances — caucus members were encouraged to "use what we have" by leasing their church buildings to others when they're not in use, encouraging estate planning, not being afraid to talk about funding needs, and remembering that "Missions do not follow money, but money follows missions." They also discussed establishing relationships with people who can "be supportive" and reaching out to seminary students by inviting them to caucus meetings and convocations — and providing financial support to enable them to attend — visiting them and sharing contact information about seminarians with black-ministry congregations so they can support the students through prayer, contact and financial assistance.
leadership — caucus members discussed the importance of training ministry leaders and encouraging leaders to attend professional workshops, "making sure that there are opportunities at the convocation that empower leaders," attending the St. Paul Lutheran Church, Dallas, Leadership Conference in 2015 and planning next year's Black Clergy Caucus meeting in conjunction with that conference. They also were reminded that "every pastor in black ministry … is a recruiter" of ministry leaders and talked about reaching out to college students and taking part in LCMS Youth Gatherings to promote interest in church-work careers. And they heard a report on the Brother to Brother program, which provides encouragement and financial support to black pastors who are facing difficulties in their ministries.
Elected as officers of the Black Clergy Caucus for the 2014-16 biennium were:
the Rev. Byron R. Williams Sr., senior pastor of Saint Paul Lutheran Church in Dallas, president.
the Rev. Aubrey J. Watson Jr., pastor of Holy Cross Lutheran Church in New Orleans, vice-president.
the Rev. Jerome N. Terry, pastor of Bethel Lutheran Church, New Orleans, treasurer.
the Rev. Warren Lattimore, pastor of St. Paul's Lutheran Church, New Orleans, secretary.
the Rev. James A. McDaniels, pastor of Saint Luke Lutheran Church, High Point, N.C., chaplain.
Also during the meeting, caucus members heard presentations on the Concordia Health Plan and the Affordable Care Act, the Synod's Veterans of the Cross and Soldiers of the Cross programs, the role of deaconesses in the church, and Concordia Seminary, including information about African-American students there and the seminary's Dr. Robert King Scholarship.
The caucus meeting was held in conjunction with the seminary's Jan. 27-28 Multi-Ethnic Symposium. Two caucus members — the Rev. Donald E. Anthony and the Rev. Christopher R. Bodley — gave presentations at the symposium.
Updated March 12, 2014