Former LCMS Atlantic District President Rev. Dr. Ronald F. Fink died Dec. 27 at his home in Drums, Pa. He was 77.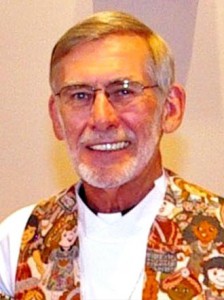 His funeral service was Jan. 1 at Faith Lutheran Church in Easton, Pa.
Elected as the ninth president of the Synod's Atlantic District in 1976, Fink served 13 years in the post. From 1989 until his retirement in 1999, he was pastor of Trinity Lutheran Church in Orlando, Fla., and in the years after that served at Mountainside Lutheran Church in Linville, N.C., and as vacancy pastor at several congregations, including Our Savior Lutheran Church, Arlington, Va.
He is a graduate of Concordia Junior College (now Concordia College—New York) in Bronxville, N.Y.; Wartburg College in Waverly, Iowa; and Concordia Theological Seminary, then in Springfield, Ill. He received an honorary Doctor of Laws degree from Concordia, Bronxville, in 1989.
After his ordination in 1964, Fink served as pastor of St. John's Lutheran Church in Denver, Iowa; Grace Lutheran Church, Vestal, N.Y.; and Resurrection Lutheran Church, Flushing, N.Y. He also was a circuit counselor (now circuit visitor) for the Eastern and Atlantic districts, and, prior to his election as Atlantic District president served as the district's third vice-president. He was a member of the Board of Control (Board of Regents) of Concordia College, Bronxville, from 1978 to 1989.
Survivors include his wife of 53 years, the former Mildred "Millie" Wheeler; daughters Terri (William) Vangor of Mahopac, N.Y., and Debbie (Les) Hambridge of Arlington, Va.; a son, Timothy (Kristie) Fink of Casselberry, Fla.; a daughter-in-law, Sherry Fink of Front Royal, Va. (the widow of son John, who died in 1999); and 10 grandchildren.
Atlantic District President Rev. Dr. David Benke called Fink "a central role model in both pastoral ministry and church leadership for me and many, many more.
"He guided the Atlantic District capably and lovingly through the difficult years following the synodical split of the '70s. Ron's compassionate heart for God's people and for the office of the holy ministry always reflected and revealed the light of Christ, in which Light he rests eternally."
Former LCMS President Rev. Dr. Gerald Kieschnick said he and his wife, Terry, "were blessed to have spent two weeks with Ron and Millie on last month's 'Footsteps of the Apostle Paul' tour and found both of them in good health, enjoying each other's company in a beautiful and biblically historic part of God's creation."
Kieschnick described Fink as "humble, transparent, fun-loving, family oriented. As a pastor," he was "caring, sensitive, pastoral, evangelical, Christ centered. As a Christian, Ron Fink loved the Lord, was thankful for God's grace in Christ Jesus, and looked forward to spending eternity in heaven."
Fink's "sudden passing is a very real reminder of the words of Holy Scripture" in Psalm 90, Job 1 and John 11, Kieschnick said, and he asked for prayers for "God's blessings of hope, assurance, comfort and peace for Millie and all the members of Ron and Millie's family."
LCMS President Rev. Dr. Matthew C. Harrison added that "the Synod conveys its deepest condolences to the family, and we pray the resurrection of Christ which Ron preached for the consolation of so many, may be theirs."
In lieu of flowers, the family asks that donations in memory of Fink be made to the "church of your choice."
Posted Dec. 30, 2014 / Updated Dec. 31, 2014 / Updated Jan. 2, 2015