Cindy L. Simpson of Oklahoma City started work Dec. 15 as director of the Synod's Joint Seminary Fund, with LCMS Mission Advancement.
In that position — for which she is deployed — Simpson directs all activities to engage new donors and strengthen relationships with current donors who support both Synod seminaries through gifts to that fund.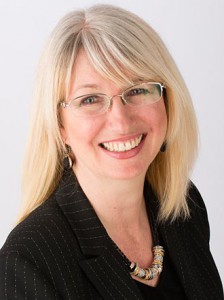 It's work she knows well, having served from 2006 to 2007 as vice-president of the Joint Seminary Fund when it was part of the LCMS Foundation. Responsibility for promoting the fund was transferred last July 1 from the Foundation to Mission Advancement.
"I know of no more noble vocation than that of a pastor — someone who proclaims the Good News of Jesus Christ so that we may have the hope and peace that come through Him," Simpson told Reporter. "I thank God for these men and for those yet to come and for the opportunity to share with our donors how they can eternally impact the world through them."
Mark Hofman, LCMS Mission Advancement's executive director, said he is "so very pleased that Cindy agreed to take on this important role a second time, working together to secure financial support that ultimately provides our congregations and mission stations with well-formed clergy. We're both committed to taking very good care of all those who give to the fund so that our seminaries and their students receive additional support from our Synod as a whole."
Hofman served as interim director of the Joint Seminary Fund after the death in December 2013 of the Rev. Paul Kienker, who was vice-president of the fund with the Foundation.
"When responsibility for the health of the Joint Seminary Fund was handed to Mission Advancement and we needed leadership, I couldn't think of a more qualified person to take on this task than Cindy," Hofman also told Reporter. "Her passion for ministry, her joy around donors and her sense of vocation are infectious."
The director of the Joint Seminary Fund position is included in the Synod's current budget.
In addition to heading the Joint Seminary Fund, Simpson has held a number of other development and administrative posts with Lutheran institutions at the college, university and seminary levels.
Most recently (2007-14), she was senior vice-president/chief operating officer for Concordia University Chicago and the Concordia University Foundation.
Prior to her work with the LCMS Foundation, she held a number of positions at Concordia Seminary, St. Louis, from 2002 to 2006 — first, associate director of Development, then director of Principal Gifts and finally, executive director of Development. Before that period, she was with Concordia University College of Alberta as its assistant dean of Admissions and Financial Aid (1994-96) and director of Church Relations and Internal Events (1996-2002).
She earned her bachelor's degree from Concordia University College of Alberta in 1989 and a Master of Arts in Philanthropic Studies in 2011 from Indiana University-Purdue University.
Simpson has been involved in various church, professional and government activities. She was secretary of the Association of Lutheran Development Executives (2008-11); a member of the board of directors of Lutheran Church—Canada's Alberta-British Columbia District (1992-2002), and chair of its Parish and School Services department; member of the advisory development board for three national parks in Canada (1998-99); and a member of the board of directors and media chair for the Reform Party of Canada, Edmonton South-East.
She also has been active for her home congregations in parish education, lay ministry and in the Lutheran Women's Missionary League.
She is married to the Rev. Ronald L. Simpson, pastor of Good Shepherd Lutheran Church and School in Midwest City, Okla. They have two grown children and two grandchildren.
Posted Dec. 23, 2014