By Melanie Ave
St. John Lutheran Church Pastor Terry Makelin uses the word "humbled" often when talking about the year that has passed since a terrible storm ripped his home, his church and most of his town from the earth.
Almost as fast as two rare EF-4 twin tornadoes ravaged the small farming community of Pilger, Neb., on June 16, 2014, prayers, well-wishes and donations arrived from all over the country.
The LCMS gave $105,000 in grants to St. John, the LCMS Nebraska District and Orphan Grain Train to help with the disaster relief and response effort.
And that was only part of the response. Makelin still gets choked up when recalling $800 sent from a tiny church in Texas, which included pictures drawn by a half dozen children in its vacation Bible school.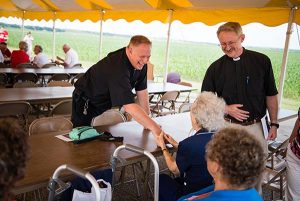 "It humbles you," Makelin said. "It humbles you that through the body of Christ, He provides. He provides for the birds and lilies and He definitely provides for us."
Twin twisters arrive
Early in the evening on a June night one year ago, the twin twisters — with winds up to 200 mph — pummeled Pilger and damaged the nearby towns of Wakefield, Laurel and Stanton.
An iconic image of the towering tornadoes spinning across the northeast Nebraska farmland quickly made its way around the globe.
The tornadoes killed two people, including a 5-year-old girl. Another 20 people were injured. Most of the homes and the businesses in Pilger were damaged. The tornadoes picked up the manmade structures and returned them to the ground in heaps of shredded wood, broken bricks and twisted metal. Trees were stripped bare of their leaves and limbs.
All that remained of St. John was a concrete slab and bricked bell tower. The homes of 18 St. John families — almost one-fourth of its members — were destroyed or heavily damaged.
Makelin and his wife were not home at the time. When they returned, the only things standing in their house were two closets. A car rested on in its hood in what was once a hallway.
Soon after the tornadoes struck, LCMS Nebraska District President Rev. Dr. Russell Sommerfeld, who has visited numerous natural disaster sites, called the damage "the worst I've ever seen."
'Becoming God's agents'
Working together, the LCMS, the LCMS Nebraska District and Orphan Grain Train built a temporary church on wheels for St. John's members. About $58,000 in LCMS funds went toward the mobile church.
"They didn't miss church," said the Rev. Rod Armon, disaster-response coordinator for the LCMS Nebraska District and pastor of St. Paul's Lutheran Church in Doniphan, Neb. "They cleaned up their site. They worshiped. Word and Sacrament were given.
"Once they did that, they immediately turned their attention to the community."
On the day the temporary church was dedicated, visitors were greeted inside by two rows of cards, letters and children's drawings lining each wall.
"The walls were plastered with all of these responses from people all over the church body," Sommerfeld said. "It was their prayers and sentiments for the people of Pilger. It was pretty touching."
St. John became a great resource of mercy in the community, as well as a house of worship.
"The community saw how St. John was affected by the storm but also, at the same time, they were still loving and showing mercy to others," said the Rev. Michael Meyer, manager of LCMS Disaster Response. "They weren't just a victim in this. They were Christ's hands and feet in the community."
The donations made by the people of God helped St. John extend its reach.
"The numbers are staggering, the people who gave so much to people they don't even know," Armon said. "They took care of them like family."
Makelin said St. John has given away about $250,000, helping its members, other community residents and people in nearby counties impacted by the storms with everything from food to building materials.
St. John, with $12,000 of the LCMS disaster funds, paid for land surveys for many people who realized their property needed fill dirt to be high enough above the flood plain before they could start rebuilding.
The church also paid for a worker to coordinate the influx of volunteers who came to help Pilger.
"It's pretty exciting reaching out to those around us and in turn helping them," Makelin said. "It's more or less turned us from victims into people who give mercy. We are God's agents in all this."
A changed town and church
Much of Pilger remains in a state of rebuilding, its structures set on a changed landscape of missing or scarred trees.
The Makelins have moved into a prefabricated home, the new St. John parsonage. Church members are still worshiping in the mobile church building, which will be made available for other churches to use in the future once the new St. John is completed next spring.
While the planning process to build a new church has been arduous, Makelin said the congregation hopes to break ground in September on a 7,000-square-foot building.
Most of St. John's members who lost their homes have either rebuilt, moved into different homes or rented homes. Some chose to move to nearby communities. A handful of members remain in flux about their living situation or are in the final stages of the construction process.
"Today they're at the stage of really trying to recover everything," Sommerfeld said. "I would say they are doing remarkably well at this point."
Makelin said the tornadoes have forever changed the people of Pilger and St. John.
"The purpose of our church has turned overnight," he said. "We are a mercy-giving church. Knocking down the walls of the church has allowed us to see our neighbors in need and allowed them to see that God Himself comes to our altar."
On the tornado's anniversary, St. John held a special outdoor prayer service and invited the community to attend.
The focus of the gathering was to thank the Lord for His miraculous protections and thank those who have given their time, talents or treasures in the last year to help others affected by the tornado recover and heal.
Meyer of LCMS Disaster Response served as the guest preacher. Speaking from Matthew, Joel and 1 Corinthians, Meyer offered a message of hope.
"What then of your pain, your sorrow, your anxiety?" he asked the men, women and children gathered around tables beneath a yellow-and-white awning. They were just steps from the site where the tornado took away their church in a matter of minutes.
"The Lord is guiding you, chastening you, keeping you close to Himself, reminding you that nothing in this life lasts except His Love," Meyer told them. "He is working you like a farmer turning the soil. For He is not done with you. Your faith is not yet full."
Indeed, the last year has been a difficult one, Makelin said after the service. He described it as a roller-coaster ride of loss, inconvenience, grief, mourning, exhaustion, uncertainty and joy.
"I've been able to deliver God's grace to a hurting people," he said. "I keep using that word 'humbling' because it really is. He is an amazing God.
"None of it I've been able to do by my own strength. That really comes home when you realize [you] don't have any strength left."
Despite their own pain and loss, members of St. John also have reached out to other churches facing similar hardships, wanting to help their sister churches in need.
In addition, St. John decided to give back to the LCMS Nebraska District $25,000 in donations for the district to use to help other congregations facing disasters. The district has already used some of the funds to help people who have suffered from recent flooding.
"They had been helped so much," Sommerfeld said, "they wanted to help."
For a gallery of photos at John Lutheran Church on the one-year anniversary of the Pilger, Neb., twin tornadoes, visit photo.lcms.org.
Melanie Ave (melanie_ave@yahoo.com) is a freelance writer in St. Louis.
Posted July 1, 2015