By Adriane Heins
In a landmark 5-4 ruling June 26, the U.S. Supreme Court ruled that same-sex couples have a right to marry in any state in America, even in states where same-sex marriage currently is not recognized.
"Today was a tragedy in the history of Western and world civilization," LCMS President Rev. Dr. Matthew C. Harrison said soon after the ruling. "Five justices cannot rewrite all of history, much less can they redefine what God has defined."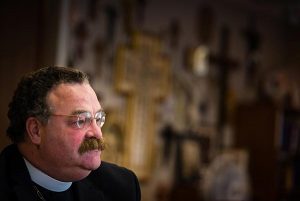 Speaking to the future, he said, "We will continue to be faithful to the institution of marriage as conceived by our founders. If those who wrote the Fourteenth Amendment could have known that it would be misused for this purpose, they would be absolutely shocked and horrified. Truth does not change. God's Word does not change."
As for the LCMS, Harrison noted, "We will continue to be faithful to God's institution of marriage and natural law, and we will also be compassionate to people who are damaged by this misdirection."
Harrison also released a letter to the church today, noting that "We respect the divinely given dignity of all people, no matter their sexual preference. We recognize that, under the exacting and demanding laws of God, we are indeed sinners in thought, word and deed, just as are all (Rom. 3:9ff.). We confess that the 'blood of Jesus Christ, God's Son, cleanses us from all our sins' (1 John 1:7)."
In his letter, Harrison also encouraged LCMS Lutherans to "continue to reach out to those who continue to be harmed by the ethic of radical sexual freedom, detached from God's blessing of marriage."
Read President Harrison's letter
Adriane Heins (adriane.heins@lcms.org) is managing editor of The Lutheran Witness and editor of Catechetical Information for LCMS Communications.
 
Marriage Resources
Marriage Policy — Sample marriage policy for LCMS congregations and sample provisions limiting the use of church property to marriages that are consistent with LCMS beliefs
Sanctity of Marriage Ruling Response — Letter from the Rev. Dr. Lawrence R. Rast Jr., president of Concordia Theological Seminary, Fort Wayne, and discussion points prepared by the Rev. Dr. Peter J. Scaer
"Why Marriage Matters" — A Bible Study by the Rev. Timothy Pauls
Biblical Understanding — Resources that provide a biblical understanding of God's gift of marriage between a man and a woman
Case for Marriage — Help for making the case for marriage when talking with those who disagree
Know a College Student? — Share a letter of encouragement regarding marriage from the Rev. Marcus Zill, director of LCMS U
Concordia Publishing House — Resources on marriage
Doxology Conference — Sex, Marriage and the Christian Vision | Aug. 12-13 in St. Louis
Posted June 26, 2015 / Updated June 27, 2015