By Roger Drinnon
ST. LOUIS — The Rev. Randall Golter read aloud some historical accounts of Soviet-era Lithuania — a time when communist spies monitored church sermons and reported to Soviet authorities on pastors who preached against atheism and to trust the true Gospel. Many of those pastors allegedly were deported to Siberia, where they died.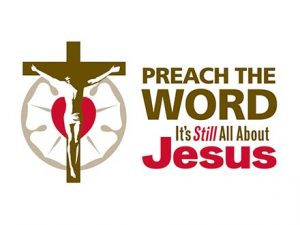 Golter, who leads the Synod's "Preach the Word" (PTW) effort for fostering excellence in preaching, noted: "Just as we focus on our preaching, the forces of darkness also focus on our preaching."      
He spoke to five LCMS homiletics experts meeting at the Synod's International Center here May 27 to prepare for developing training resources in support of PTW, a voluntary, collaborative program for LCMS pastors who seek to hone their preaching abilities.
During the meeting, the team examined feedback received from pastors serving congregations across the Synod. This feedback is being used to shape training modules being developed to enhance preaching among Synod clergy. The PTW endeavor involves the creation of training modules — where groups of three pastors, or "triads," complete multimedia curriculum geared to sharpen their gifts in delivering the Gospel to their respective congregations.
Members of the team agreed the next step in developing the courses will be soliciting feedback from laypeople in a forthcoming survey. The goal is to have the modules completed, so that they can be announced at the 2016 Synod convention and made available for use throughout 2017 and beyond, as part of celebrating the 500th anniversary of the Reformation.    
"The PTW project offers to the church — pastors and laity — one way in which they may honor the Reformation anniversary, in addition to honing their vocations of preaching and hearing," said Golter. "Preaching was at the heart of the Reformation — getting the right content of preaching, that is the pure, sweet and freeing Gospel of Jesus Christ."
The five Synod representatives at Golter's meeting were:   
Rev. Dr. Carl Fickenscher II — professor and chairman of Pastoral Ministry and Missions and also director of Pastoral Formation Programs at Concordia Theological Seminary, Fort Wayne, Ind. A member of the LCMS Commission on Theology and Church Relations, Fickenscher also is editor of Concordia Pulpit Resources, the Synod's preaching journal published by Concordia Publishing House. 
Rev. David Fleming — senior pastor of Our Savior Lutheran Church, Grand Rapids, Mich.
Rev. Timothy Mech — senior pastor of Trinity Lutheran Church, Sheboygan, Wis.  
Rev. Dr. Dean Nadasdy — president of the LCMS Minnesota South District since 2012 and former senior pastor of Woodbury Lutheran Church, Woodbury, Minn. He previously held the Gregg H. Benidt Memorial Endowed Chair in Homiletics and Literature at Concordia Seminary, St. Louis, before his pastorate in Woodbury.
Rev. Dr. David Schmitt — professor of Practical Theology at Concordia Seminary, St. Louis. Schmitt currently holds the Gregg H. Benidt Memorial Endowed Chair in Homiletics and Literature, a position that involves teaching courses, speaking and conducting workshops and symposia for the church at-large.
Golter said that ultimately, Preach the Word training will prepare pastors for what could be challenging times ahead, as the West continues a downward spiral of increasing secularism, while other international partners already endure persecution at the hands of radical Islamists and oppressive governments. He said preaching the Word is the key to enduring such persecution.
"The Gospel is the armor of God," he said.
Roger Drinnon (roger.drinnon@lcms.org) is manager of Editorial Services for LCMS Communications.
Posted June 26, 2015