This Easter, the April issue of The Lutheran Witness zooms in on vocation — on the ways in which God uses His children to care for those people He's put them close to.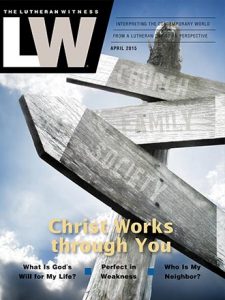 In "Christ Works through You," the Rev. James De Loach explains that God places people in specific callings at home, in society and in church, while "What Is God's Will for My Life?" by the Rev. Peter Lange outlines how God's Word informs daily living.
"Who Is My Neighbor?" by the Rev. Heath Curtis explains how the parable of the Good Samaritan has meaning for Christians still today, while the Rev. Gary Schultz's "Perfect in Weakness" answers key questions about holy callings, even when they cause frustration.
The Rev. Andrew Packer helps Christians find their vocational place in "The Table of Duties" and "Called to Faith and Family" by the Rev. Benjamin Hertel offers comfort for those who don't feel like they've lived up to their calling in life.
Emily Olson's "Who Are You?" offers encouragement for families looking for tangible examples of serving one another in the home, and Kaitlin Jandereski's "Dream or Vocation: The Great Divide" reminds young adults that, even if they don't know what they want to be when they head to college, Jesus has a plan and purpose for them right now!
Finally, in the magazine's free online content, Ellen McGladdery responds to recent media hype — regarding one woman's abortion because her unborn child had Down Syndrome — by telling her own story and that of her young son, Sammy, in "Why I Didn't Terminate My Child with Down Syndrome." Go to witness.lcms.org to read McGladdery's story and other timely content from a Lutheran perspective.
Posted March 27, 2015