Ever wonder how dinosaur fossils fit into the biblical narrative of creation?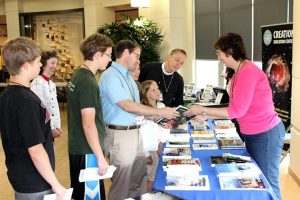 Concordia University, Ann Arbor, Mich.; Concordia University Wisconsin, Mequon; and the Society of Creation host the third annual creation conference July 6-8 at the Ann Arbor campus gymnasium under the theme "The Origin of Diverse Kinds of Life: Dinosaurs."
The conference also will be broadcast to the campus of Concordia, Mequon, where the first two conferences were held. The three-day event is open to LCMS pastors, teachers, laypeople and anyone with an interest in defending creationism.
Keynote speakers and topics include:
Dr. Kevin Anderson, author, speaker and editor-in-chief of the Creation Research Society Quarterly, who will discuss soft dinosaur tissue in his first plenary talk, drawing on research from the society's "iDino" project. In his second presentation, Anderson will talk generally about the origin of diverse kinds of life.
Dr. Tim Clarey from the Institute for Creation Research, who will address four dinosaur myths commonly taught to the public. Clarey holds a Ph.D. in Geology from Western Michigan University, has experience as an exploration geologist for Chevron USA Inc. and is a contributor to Guide to Dinosaurs.
Rev. Dr. Joel Heck, professor of theology at Concordia University Texas, Austin, who will present a plenary session that examines the impact of Darwinism on our world today.
Dr. Gary Locklair, a computer-science professor at Concordia, Mequon, who will lead a presentation on the positive evidence for the creation of diverse forms of life.
"Evidence continues to mount in support of creationism," said Heck. "At this conference, we'll examine facts like the presence of collagen in dinosaur remains — a substance that lasts up to 900,000 years, indicating a more recent extinction of dinosaurs that's not at all consistent with the theory that dinosaurs became extinct 65 million years ago."
The registration deadline is June 22, and the fee is $55 per person, with reduced rates for additional members of the same family or church staff. On-campus housing is available for $52 per night.
"Remote" conference attendance for the broadcast at Concordia, Mequon, is $25.
For more information about the conference or to register, visit societyofcreation.org/conferences.php.
Posted April 15, 2015