By Paula Schlueter Ross (paula.ross@lcms.org)
There were so many people lined up early for the Saturday, July 25, festivities in Ferguson's Forestwood Park that the gates were opened 15 minutes before the official 10 a.m. start time.
Once inside the fenced-off grounds at the "Day of Hope," some 3,270 visitors were treated to free family portraits, haircuts, cell phones, shoes, bags of groceries and a hot-dog lunch.
A "community services" tent featured dozens of local spokespeople who shared information about everything from early-childhood programs, to college loans, to services for seniors; healthy living and health care; family safety; counseling; employment and housing assistance; mentoring.
And, in the midst of the popular "Kids Zone" — with bustling bounce houses, a slide and more than two dozen carnival games manned by other church and community volunteers — The Lutheran Church—Missouri Synod's 40-plus volunteers from its St. Louis offices and at least six LCMS congregations, clad in matching green T-shirts, handed out some 1,500 backpacks of groceries, took names for a raffle of three bicycles and guided hundreds of visiting children and their family members to a mini-vacation Bible school, complete with videos and songs from Concordia Publishing House's "Camp Discovery" program.
Sitting cross-legged with the kids on a tarp in the VBS area, the Rev. Adam Filipek, pastor of Salem Lutheran Church in nearby Black Jack, Mo., told a Bible story, assuring the children — and their parents — "of God's great love [for them] in Jesus Christ." Filipek also prayed with them.
Community events like this Day of Hope, he told Reporter, "give us a great opportunity to interact with so many people at one time and to be able to share Christ crucified and risen for the forgiveness of sins — the one thing, in all this, that people need. The one thing that gives hope, the one thing that gives comfort and strength."
Echoing that sentiment, the Rev. Steven Schave, director of LCMS Urban & Inner City Mission and LCMS Church Planting, said the Day of Hope event provided a way "to introduce ourselves to the community — and just have fun — and tell people about Jesus, and then hand out food to show that we truly care about them."
The backpacks distributed at the Day of Hope — bulging with canned vegetables, pasta, fruit, peanut butter, pretzels and granola bars — were provided through a grant from the "Angel Tear Ministries" program of Concordia Lutheran Ministries, a Cabot, Pa.-based LCMS Recognized Service Organization that serves older adults. Packing those backpacks were Missouri District youth who were taking part in a Youth Gathering servant event. Also involved were Lutheran High School North students, who unloaded the food from the truck and loaded the filled backpacks back onto trucks for distribution.
The food that went into the backpacks was part of a total of 13 tons of food distributed this summer to North St. Louis County families through VBS programs at LCMS congregations, according to Schave. Often, it's "difficult for students to get a square meal" during the summer, when they're not in school, he said.
More than 50 children who visited the LCMS area of the Kids Zone also wrote down their names and grades on a prayer list manned by Donna Dieckmann, a member of Salem, Black Jack, who said she and her husband plan to pray for each child during their morning devotions.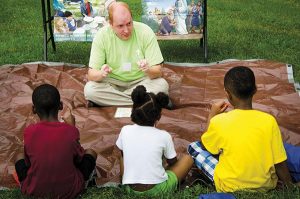 Among those who signed the list were three 9-year-old friends:
Paris said she liked the idea "because, like, if something happened in your family or something, you could get a prayer and it could help them out."
Taliyah said she believes in prayer: "I think they can help us get our education, even though we don't know" those who are doing the praying.
Lindsey cut right to the chase: "I want to be very smart and become rich and famous, and I can't do that if nobody prays for me."
Prestina Henderson of nearby Bellefontaine Neighbors, Mo., said the Day of Hope was a good idea for Ferguson because "it shows that people do care, that you're not just in [the day-to-day struggle] by yourself."
Anitra Mathis of Ferguson said she "really liked" the involvement of local churches and community organizations.
"The churches' involvement may have served as an enlightenment for those who are not familiar with Jesus and what He has done for us," Mathis said. "If we 'train up a child in the way he should go,' we would have a better community."
Along with the LCMS, sponsors of the daylong charity event included Convoy of Hope, a faith-based humanitarian relief organization, some 40 local churches, 22 community agencies and the city of St. Louis.
The Synod also is one of four area partners that will together offer job training, youth education, spiritual care and other assistance through the Community Empowerment Center of Ferguson when it opens next summer. (See related story, "LCMS, partners break ground for Ferguson 'Empowerment Center.' ")
Schave recalled August and November of last year — when he and other LCMS pastors were in Ferguson "in the midst of this absolute turmoil, and chaos, and violence, and anger" — and how different this Day of Hope was "to see smiling faces, bright eyes and kids that just want to have a chance for a better life."
Added Schave: "That we've been able to be a part of that whole process has been very rewarding."
Posted Aug. 4, 2015 / Updated Aug. 5, 2015