At the LCMS Life Conference's Jan. 23 banquet, Maggie Karner, outgoing director of LCMS Life and Health Ministries, was presented with the Doctor of Humane Letters Honoris Causa from Concordia Theological Seminary, Fort Wayne, Ind. (CTS–FW), during a surprise tribute. The event also included a video featuring memories of Karner's 10 years with the LCMS ministry.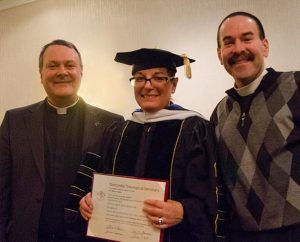 "As president of CTS–FW, I have had the opportunity to serve with many faithful servants of Christ, and Maggie stands prominently among them as a selfless hero of the faith," said the Rev. Dr. Lawrence R. Rast Jr. "What a joy and privilege it is to present this honor in recognition of a life well-lived and to acknowledge that Maggie, indeed, is a teacher of the Church."
The decision to confer the honor was approved unanimously by the seminary's faculty and Board of Regents.
"I feel so humbled that an academic institution that brings the Gospel light to the whole world, that has taught seminary students around the world, has honored me," Karner said. "This is right up there with the coolest days of my life."
During her decade-long tenure as director of LCMS Life and Health Ministries, Karner spearheaded LCMS sanctity-of-life programs, education opportunities and resources, and she supported LCMS life-and-health mercy-outreach projects in the United States and abroad.
Karner resigned from the position after being diagnosed last spring with a stage-four glioblastoma multiforme brain tumor. She and her husband, the Rev. Kevin Karner, pastor of Immanuel Lutheran Church, Bristol, Conn., have three daughters.
To view a video from the event, visit http://thelc.ms/karnerdoctorate. To watch the tribute video, visit http://thelc.ms/karnertribute.
Posted Feb. 2, 2015