Cletus "Clet" Pfeiffer of Rochester, Minn., heads the list of eight educators named by Lutheran Education Association (LEA) as recipients of its 2015 educator awards.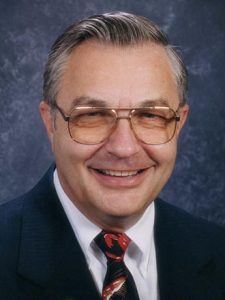 The LEA board of directors selected Pfeiffer to receive the top honor, the Christus Magister award. Since 1965, this most prestigious LEA award has been presented to Lutheran educators "who have made significant contributions to Lutheran education," according to an LEA news release.
Pfeiffer retired in 2007 as principal of Rochester Central Lutheran School, having previously served Lutheran schools and congregations as principal and teacher since 1965. In retirement, he has been an interim principal at schools in Minnesota and Illinois. He also continues active service in the Synod's National Lutheran School Accreditation.
Pfeiffer earned a Bachelor of Science degree in education in 1965 from Concordia University, Nebraska in Seward, Neb., and both the Master of Science (1972) and Educational Specialist (1988) degrees in education from Mankato State University, Mankato, Minn.
The LEA news release announcing this year's awards quotes a supporter of Pfeiffer's nomination for the Christus Magister award, as follows:
"His willingness to interrupt his retirement in order to help people he did not even know showed us all a living example of the mind of Christ described by the Apostle Paul in Phil. 2:4-8. He taught us about Christ with his actions when he looked beyond his own interests to our need and came to us as a servant of Christ to help our struggling school. He has served other congregations as a humble servant using the gifts given to him by God for the edification of others and the building of Christ's church."
Other 2015 LEA distinguished-educator award recipients are :
Distinguished Lutheran Elementary Administrator: William Unverfehrt, Concordia Christian Day School, Conover, N.C.
Distinguished Lutheran Early Childhood Administrator: Rebecca Bimler, St. John Child Development Center, Seward, Neb.
Distinguished Lutheran Elementary Teacher: Terry Umphenour, Concordia International School Shanghai.
Distinguished Lutheran Early Childhood Teacher: Karen Gibbon, Hope Lutheran School, Levittown, Pa.
Distinguished Lutheran Secondary Educators: Amy Cooper and Benjamin Cooper, both from Valley Lutheran High School, Saginaw, Mich.
Distinguished Retired Lutheran Educator: Roger Laesch, Wauwatosa, Wis.
LEA, based at River Forest, Ill., is an LCMS Recognized Service Organization.
Posted March 5, 2015