Scholarships are now available for at least 12 college students to join Mercy Medical Teams.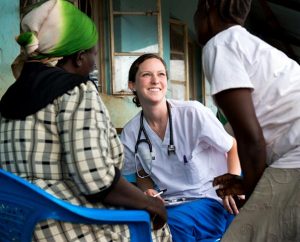 To be eligible for the scholarships, applicants must be full-time students in good academic standing enrolled in health- or medical-related programs at any of the Concordia University System schools in Ann Arbor, Mich.; Austin, Texas; Bronxville, N.Y.; Irvine, Calif.; Mequon, Wis.; Portland, Ore.; River Forest, Ill.; St. Paul, Minn.; Selma, Ala.; and Seward, Neb.
Since 2006, Mercy Medical Teams (MMTs) have provided health care to more than 30,000 people in developing countries. The MMT program offers medical professionals, church workers and laypeople short-term opportunities to volunteer abroad in a variety of clinical and health-related settings.
Nursing and other health-care students who serve on an MMT typically assist in mobile, primary-care clinics, providing basic health care such as taking "vitals" or helping out in the pharmacy. Trips last from 7 to 10 days.
MMT members will be needed for June 12-21 in Kenya, Aug. 15-23 in Uganda, and Sept. 4-14 and Oct. 9-18 in Madagascar. Additional trips are being scheduled.
The typical cost to MMT volunteers is from $2,000 to $5,000 per person — an amount that may be out of reach for many college students, according to Tracy Quaethem, MMT project coordinator. The new grants should cover all or most of that cost for students who want to take part in the program.
The overseas, mercy-focused experience "helps students see their vocation as a calling to serve God," Quaethem told Reporter, and "gives them an opportunity to use their gifts to serve the global body of Christ."
The scholarships are funded in partnership with Angel Tear Ministries, a program of Concordia Lutheran Ministries, Cabot, Pa., an LCMS Recognized Service Organization that operates a network of health-related services and retirement homes for older adults.
To request an application for a student scholarship, send an email to Quaethem at tracy.quaethem@lcms.org.
Posted March 30, 2015