The Rev. Michael W. Salemink, associate pastor of St. James Lutheran Church and School in Lafayette, Ind., since 2005, has accepted a call to serve as the next executive director of Lutherans For Life (LFL).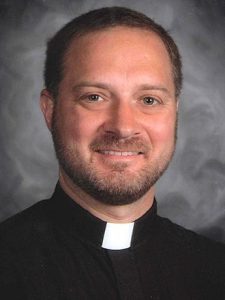 Salemink — who plans to join the LFL staff in August — will succeed the Rev. Dr. James I. Lamb, who is retiring at year's end. Lamb has served in the post since April 1996.
Salemink, 36, is expected to relocate to St. Louis, where he will work remotely for LFL, which is based in Nevada, Iowa.
Since LFL's National Director, Scott Licht, "runs all of the day-to-day operations of the ministry from the Nevada, Iowa, office, it is not as critical for the executive director to be there," according to an LFL news release. "The executive director is now more the 'face' of LFL who writes, speaks and preaches."
St. Louis, the release notes, "provides a centralized location, easy airport access and a number of school choices for [Salemink's] children."
Salemink and his wife, Heather, have three children: Christian, 12; Nathan, 9; and Luke, 7.
A 2003 graduate of Concordia Theological Seminary, Fort Wayne, Ind., Salemink also holds a B.A. in Theology from Concordia University, River Forest, Ill. He is a member of the Matrix Pregnancy Resource Center, Lafayette, Ind., board of directors, a Stephen Ministry leader, a facilitator for Prepare/Enrich, and has led abstinence-education courses for teens.
He was pastor of St. John's Evangelical Lutheran Church in Webster, Minn., from 2003 to 2005.
Salemink says he is "not just excited but passionate" about his new LFL position as well as the mission of the pan-Lutheran, pro-life organization.
"I know that I will be standing with and standing for a generation and a faith that speaks the truth in love about life matters like marriage and sexuality, abortion and euthanasia, creation and bioethics," he told Reporter. "I look forward to bringing the uniquely Lutheran voice of Law and Gospel, God's grace and Christ's forgiveness to these current cultural conversations and shaping the discussions for coming generations — changing minds, healing hearts, forming spirits and securing eternities.
"With gentleness and respect we will advocate together precisely, persistently, diplomatically, persuasively, compassionately — not just for issues but for the saving Gospel of Jesus Christ," he added. "Through our improving and increasing Gospel-motivated materials and resources, we will strive to communicate that just as the Gospel is not merely a movement or an institution but a Person and a Life, so Lutherans For Life is not simply a message or a cause but relationships."
For more information about LFL, visit its website at lutheransforlife.org.
Posted May 26, 2015