By Roger Drinnon
Just before the Rev. Timothy Scharr was re-elected as the Southern Illinois District's (SID) president during its Feb. 12-14 convention in O'Fallon, Ill., he described an increasingly dismal world but one where God's power abounds.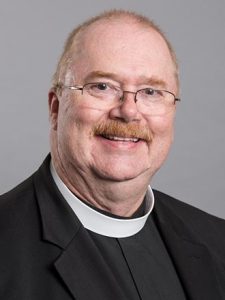 "A Chinese proverb says, 'May you live in interesting times!' Some of us may conclude that the times are interesting enough, thank you," said Scharr. "There are challenges that touch every aspect of our lives. Farms are larger, towns are smaller. Children relocate farther from home. Automation and robotics have eliminated many jobs once filled by people supporting families. Terrorism and war are never far from the news. Economic uncertainty abounds. Religion is derided but spirituality praised …."
However, Scharr also acknowledged that times like these are when Christians most experience the Lord working in their lives.
"Compared to worldly grandeur and glory, the Church often seems weak, struggling and on the precipice of collapse. It is precisely at these times that the Lord does His best work among His own. He brings life where death dominates …. When we are weak, then, we are strong, for God's power is demonstrated in human helplessness and frailty," he said.
Scharr was re-elected on the first ballot to his second full three-year term. He also previously filled the remainder of the term of former district President Rev. Dr. Herbert C. Mueller Jr. after Mueller was elected LCMS first vice-president in 2010.
Scharr noted that elections for more than 80 district positions ran smoothly, crediting the work of the SID's Commission on Nominations and Elections as well as electronic voting.
"Vice-Presidents Michael Walther and Bruce Keseman were re-elected, but they reversed order this convention, as the Rev. Keseman was elected first vice-president and the Rev. Walther second vice-president. The Rev. Dr. George Gude was re-elected as district secretary, and Julie Johnson was elected to her first district office as treasurer," he said.
As convention essayist, Professor Jeffrey Pulse from Concordia Theological Seminary, Fort Wayne, Ind., gave a two-part presentation on 1 Peter 4:7-11, reflecting the convention theme "Love One Another."
Delegates showed overwhelming support for various district missions, including prison ministries — an SID priority for some years now — and mission work with the Lutheran Church in Southern Africa. SID delegates affirmed nearly 20 resolutions with little or no contention.
However, Resolution 2-05B, which calls an LCMS clergyman — the Rev. Dr. Matthew Becker — to repentance for reported practices and expressed beliefs starkly inconsistent with Holy Scripture, the Lutheran Confessions and Synod doctrine, brought a significant amount of floor comments. The approved resolution goes on to implore the clergyman's district president to exercise ecclesiastical supervision, if he is not already doing so, in addition to calling the clergyman to repentance. The resolution also commends LCMS President Rev. Dr. Matthew C. Harrison for his faithful leadership of the Synod.
"Overall, I was very pleased with the convention," said Scharr. "The delegates went about their business well. There is a strong unity evident within the [SID] that came through time and again."
Roger Drinnon (roger.drinnon@lcms.org) is manager of Editorial Services for LCMS Communications.
Posted Feb. 20, 2015 / Updated Feb. 25, 2015