Upon This Rock is the title of the 2016-17 edition of "Chapel Talks for Lutheran Schools," an annual worship resource for LCMS elementary schools that's based on Luther's Small Catechism. The title is from Isaiah 26:4 — "Trust in the Lord forever, for the Lord God is an everlasting rock."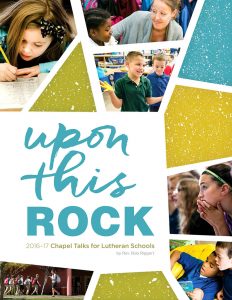 This year, for the first time, "Chapel Talks" was produced in full color and is available for free downloading from the LCMS School Ministry website (click on the "Chapel Talks" section).
Another change from previous years is that the School Ministry office will no longer be processing orders for the print version. Instead, "we are taking advantage of the Amazon print-on-demand service which prints and ships a full-color print version of the book upon purchase from Amazon," notes Matthew Bergholt, coordinator of Online Support and Services for School Ministry, a division of the Synod's Office of National Mission. "This option has allowed us to greatly reduce the cost of our resource" — from $20 last year to $9.99, plus shipping, for this year's paperback copy through Amazon.
"All of these changes put together should allow for this great resource to be utilized by a much wider group of churches and schools than in the past," Bergholt says.
The new edition has outlines for 42 weekly devotions as well as messages for opening and closing chapels during the school year. All include a rock theme: "Rock Collecting," a lesson visual; "Rock Exploration," an introduction to the day's lesson; "Standing on the Rock," the main points of the lesson; and "Relying on the Rock," a prayer to conclude the lesson. Included are Scripture readings and hymn suggestions.
Author of the 2016-17 "Chapel Talks" is the Rev. Bob Riggert, a former Lutheran school teacher, principal and parish pastor who served for 15 years as executive assistant for Education, Youth and Stewardship for the LCMS Iowa District West.
The theme hymn, "Christ Is Our Rock," was written by Dr. Jeffrey E. Burkart, professor emeritus of Concordia University, St. Paul, Minn.
"Chapel Talks" may be used for devotions in various settings — schoolwide, for midweek classes and Sunday schools, and for congregation or school-staff gatherings.
For more information, contact Bergholt at 800-248-1930, Ext. 1285, or matthew.bergholt@lcms.org.
Download "Chapel Talks"
Order printed "Chapel Talks"
Posted June 21, 2016