By Paula Schlueter Ross (paula.ross@lcms.org)
Susan Longmire, principal of St. James Lutheran School in Shawano, Wis., since 2006, wishes she could bring her entire staff with her to Washington, D.C., next month when she is honored as one of the nation's best elementary-school principals.
"This honor, to me, represents everybody who works so hard, all the time, in Lutheran education," Longmire told Reporter. "And at my school we are such a team, I couldn't do it without them."
Her job, she says, "is to make their jobs easier. I just love my staff."
Longmire is one of only five parochial-school principals to be recognized by the National Association of Elementary School Principals this year — along with 51 public-school principals from across the country and two principals from Mexico and Germany.
Terry Schmidt, director of LCMS School Ministry — which chooses one LCMS principal for the honor each year — credits Longmire for doing "some pretty creative and amazing things," such as collaborating with a neighboring Catholic school, Sacred Heart, to land a $150,000 grant to improve technology.
Each school received half of the grant, which "was enough to really get us started on bringing our schools into the 21st century," notes Longmire. St. James — with 232 students in preschool through eighth grade — upgraded its wireless network and purchased resources such as SMART Boards, document cameras, projectors, Chromebook computers and Nexus tablets.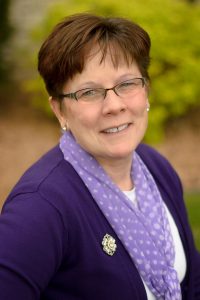 "It really has made a difference in our school, in our teaching," she says, especially since many St. James faculty members are young and tech-savvy, and appreciate the support. In addition, two teachers from the school are chosen each year to attend monthly training courses to learn more about the new technology.
As another result of the grant, one St. James teacher started a video news program written and produced by students that is shared biweekly with the rest of the school and students' parents.
And because St. James participates in the Wisconsin Parental Choice Program — receiving state funds that lower tuition costs — it has enrolled "students that we would never have gotten otherwise: non-Lutheran, low-income," says Longmire. "It's just such a cool thing to see how this place can impact their lives and the lives of their families."
It's "important," she says, for the congregation and school to always maintain a "partnership" — a school "needs that support" from its congregation and pastor, and vice versa, in order to, as St. James notes on its website, "teach and apply God's Word every day in everything that happens at school."
A graduate of Concordia University Chicago, River Forest, Ill., Longmire also holds a master's degree in education from Concordia University, Nebraska, in Seward. She received the Herb Kohl Excellence in Leadership Award in 2016 and was named a Wisconsin Council of Religious & Independent Schools Principal of Distinction in 2007.
As a 2016 National Distinguished Principal, she and the other winners will be feted Oct. 7-8 with a reception and formal program at the Capital Hilton in downtown Washington.
To see the list of winners, click here.
Posted September 28, 2016