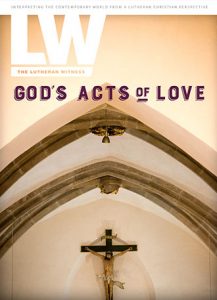 Love is the focus of the February issue of The Lutheran Witness — no, not "love" as the world sees and talks about love, of course, but rather love as seen in the comforting truth that God's love for us isn't based on feelings or emotions — things that so often change, based on our fickle human moods and perceptions.
Instead, we have, and hold to, the comforting truth that God's love is an action: the death and resurrection of His Son, Jesus, on our behalf and for our salvation.
Also in the February Lutheran Witness, you'll:
learn who St. Valentine actually was,
learn that your worth doesn't come from your relationship status, and
be reminded of the many hymns that tell us of God's love in Jesus.
All in all, we'll say it's, well, a lovely February issue.
Visit witness.lcms.org for free online content from The Lutheran Witness and like the magazine on Facebook.
Posted Feb. 5, 2016