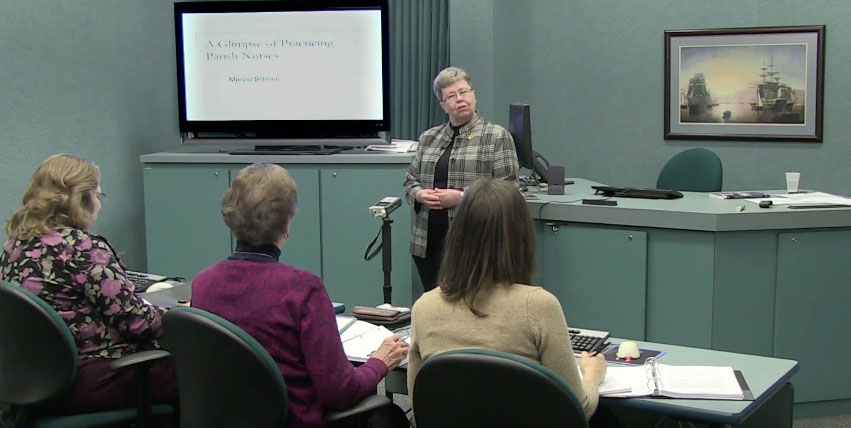 Registered nurses interested in receiving certification as parish nurses may take an online course through LCMS Health Ministry.
The "Introduction to Parish Nursing in a Lutheran Setting" program includes videos, supplemental print materials and guided discussions and activities. Mentors assist students in completing their studies at home, or in a group setting, within a six-month period. Most finish the course in about three months, according to Marcia Schnorr, Health Ministry's coordinator for Parish Nurse Education.
Schnorr, who has supervised the program since its start in 1989, said 46 nurses have completed the online course to date, including one in Palestine and 17 in India. The LCMS Parish Nurse Directory lists 467 nurses, and Schnorr estimates that as many as 350 Synod congregations have parish-nurse ministries.
"Every congregation can benefit from a parish nurse," she told Reporter, "but the parish nursing will be different in each as determined by the needs of the congregation and the unique gifts of the nurse."
Typical duties of a parish nurse include:
health education — sharing information in the church newsletter, on bulletin boards or via pamphlet racks; conducting health fairs; leading exercise and other "wellness" classes; and answering questions from congregation members.
health counseling — talking with and advising members in their homes, hospitals and nursing homes, and leading support groups for caregivers, those who want to lose weight and those who are grieving, for example.
being a liaison between the congregation and its community — connecting members with local resources on home care, transportation, shelters, screenings and crisis pregnancies.
facilitating caregiving volunteers — organizing volunteers for home visits, providing meals or transportation, handyman services and other needs, including collaborating with a Stephen Ministry.
integrating faith and health — praying, reading Scripture or a devotion during visits with members; encouraging Baptism for newborns; providing a weekly prayer list; sending Christian greeting cards to those who are ill; and working with the pastor to provide group Holy Communion or a healing service.
Moreover, parish nurses "can play an important role in providing ministry to, with and for the older adult," Schnorr says, even accompanying them to doctor visits, as well as young families who may need "some encouragement, support and mentoring in areas related to pregnancy, infant care and children's health."
Parish nursing "is a way to use the unique gifts that God has given nurses through professional experiences and expertise," adds Schnorr, who serves as a parish nurse in her own congregation, St. Paul Lutheran Church in Rochelle, Ill.
The online "Introduction to Parish Nursing in a Lutheran Setting" has seven sections that are designed to prepare nurses to serve individuals and groups within the congregation and community. It is available for $200 to registered nurses as well as other health professionals — such as LPNs, pharmacists and dieticians — who are interested in congregational health ministry.
More Information
Visit lcms.org/health/education for more information about the online course or parish nursing — including programs at Concordia University, Nebraska, Seward, and Concordia University Wisconsin, Mequon. Or send an email to healthministries@lcms.org.
Posted Feb. 19, 2016