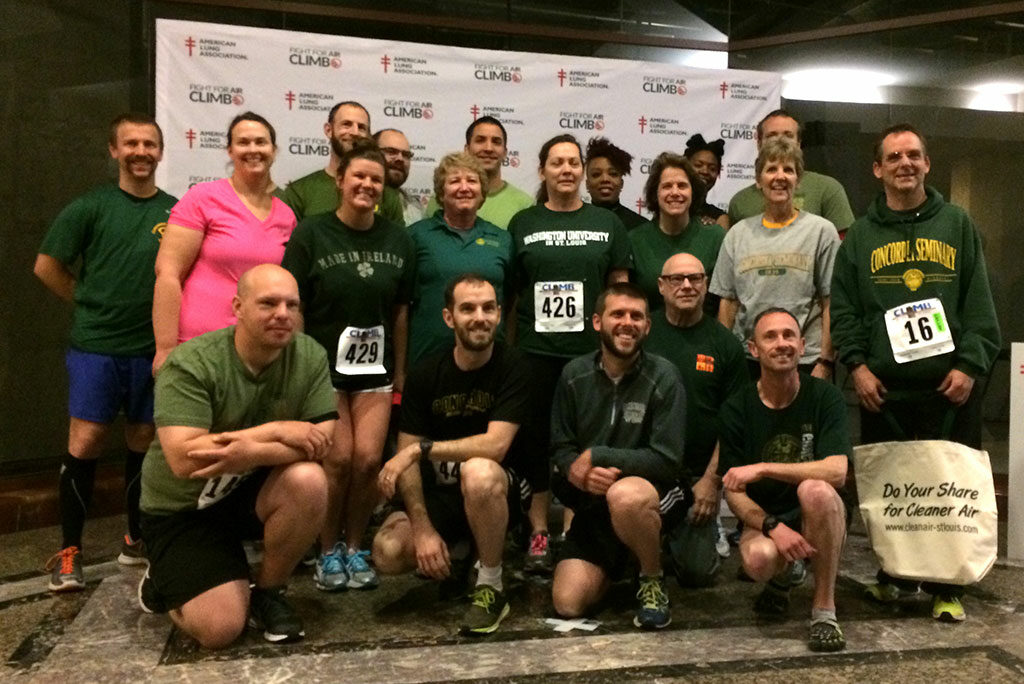 The Stair Climb Team of Concordia Seminary, St. Louis, raised $3,800 and placed second for fastest team time at the annual "Fight For Air Climb" held April 2 at the Met Square building in downtown St. Louis.
More than 1,500 people on 150 teams climbed 40 floors of stairs in Met Square, the tallest building in St. Louis, to raise money for the American Lung Association (ALA) and its research efforts.
The seminary's team was ranked in the top 10 for donations raised and number of team members with 22. Seminary team member Melodie Bostic was ranked 21st among ALA fundraisers. Two other team members, Jeanne Anderson and Maureen Campise, also were ranked in the top 50 fundraisers.
As the event's second-fastest team, the seminary team was led by second-year student Ahren Reiter who came in second place with a time of 4:47. Fourth-year students Mark Gearig and Eric Hauan placed sixth at 5:43 and eighth at 5:45, respectively.
"We are thankful to join the fight against lung disease," said team Captain Rev. Dr. Richard Marrs, director of the Master of Divinity/Residential Alternate Route programs and associate professor of Practical Theology at the seminary. "We do this in the name of Christ, whose mercy for all those in need knows no bounds."
More than 30,000 participants from 63 climb events across the country came together last year to raise more than $8 million. This year's goal is $9 million to support research, patient education and advocacy efforts. The St. Louis event surpassed its goal this year, raising $370,000.
Posted April 15, 2016