By Roger Drinnon
LCMS district and local disaster responders continue their recovery efforts on the heels of devastating weather across the nation in late December that included intense rainstorms with flooding in Illinois and Missouri as well as tornadoes in Mississippi and Texas.
While North Texas and Northern Mississippi reeled from unseasonable twisters, St. Louis and its surrounding communities endured a deluge of rainstorms that flooded residential and industrial areas, major highways and other roadways. Places farther northeast, like Watseka, Ill., also were hurt by intense storms.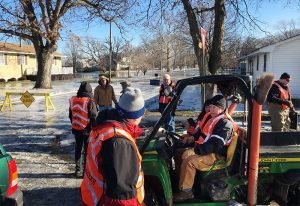 As disaster responders from the affected districts and LCMS Disaster Response assessed the flood-stricken regions to help where needed most, the Synod approved disbursement of more than $120,000 in grants and other aid for immediate relief in the hardest-suffering communities and congregations. The Central Illinois District (CID) was able to purchase two high-capacity commercial pumps and other essential equipment and supplies. The pumps are able to drain out a flooded basement in about 30 minutes, and they will be available for use throughout the Midwest. Grants also were provided to congregations in both Missouri and Illinois for disaster-response trailers. Affected LCMS congregations across the Midwest received grants not only for helping those within their congregations but also for ongoing relief work in their surrounding communities.
LCMS Disaster Response also distributed $6,000 in $100 gift cards to affected congregations across the Midwest to help people in their communities with basic necessities.
Illinois
About 23 counties within the CID were flooded. In Iroquois county, the Sugar Creek and Iroquois River flooded roughly 60 blocks in Watseka, Ill.
"Disaster-response coordinators were dispatched four days after the flooding occurred for relief assessments," said Stephen Born, the CID's district disaster-response coordinator (DDRC). "To maximize our relief efforts, we are working in collaboration with Lutheran Church Charities [LCC] and LCMS Disaster Response."
"About 150 homes [in Watseka] were affected by the flooding, and approximately 450 people were directly affected. In town, there were approximately 10 businesses that were affected," said the Rev. Donald G. Love, pastor at Calvary Lutheran Church in Watseka. "Approximately 30 people in both our congregation and preschool were affected at some level — four families were hit hard."
LCMS Disaster Response's Lutheran Early Response Team (LERT) training and "Mercy in Action" training are available year-round to prepare and equip districts and congregations ahead of time for effective, coordinated responses to catastrophes. (See related story, "LCMS Disaster Response trains district, church responders year-round.")
Born said that LCMS Disaster Response qualified him and fellow disaster-response coordinator Randy Wolf early in 2014 as LERT trainers, and they in turn trained hundreds of other responders.
"The [CID] has approximately eight LERT trainings a year. They have 400 certified team members, including over 60 certified LERT chainsaw members," said Born. "To further assist their efforts, they have disaster-response trailers, which carry their equipment and supplies. They also have [all-terrain vehicles], which allow them to carry food and water to volunteers and families."
He said LERT training is essential for responding safely and mercifully to sudden emergencies like the flooding in Watseka.
"LERT is extremely important in all communities, as disasters occur at any time and anywhere," Born said. "Our volunteers are first-responders to the community, offering hope, hugs and hammers. If we have LERT-trained volunteers in the area, then we can rest assured that well-trained individuals will respond and share the mercy of Christ with others just as Christ has shown mercy to us."
"Having the presence and help of the CID and the [Northern Illinois District] teams at Calvary has made a huge difference. It has brought hope, compassion and a reassurance that we are not alone," said Love. "Knowing that there are other Christian brothers and sisters who are skilled and trained that are coming in to help in the congregation and representing Calvary to the community means a world of difference. It's a boost to the ministry of Calvary within the community in giving witness that Christ, and His people at Calvary, love and care about the people of Watseka."
Love said he also appreciates the response from LCC and the additional volunteer support coming from the NID.
"Lutheran Church Charities traveled to Watseka within days after the flooding. Our first goal was to assess the damage to homes of members of Calvary Lutheran Church and others in the community," said Philip Bandy, LCC vice-president. "A few days later, we helped recruit volunteers and coordinated their deployment from both the NID and CID to homes ravaged by ice, water and mud. Two of the families we helped with cleanup were a couple over 90 [years old] with eight feet of water in their basement and another couple where both were recovering from health issues — the husband from a heart attack and the wife from back surgery. LCC was blessed to be able to assist those families and scores of others while sharing the mercy, compassion, presence and proclamation of Jesus Christ with them."
Missouri
After-flooding from swelling waterways like the Missouri River and the Mississippi hurt communities throughout Missouri. Lake Taneycomo reportedly reached flood-level in Southwestern Missouri, flooding parts of Branson and surrounding neighborhoods. Flooding along the Meramec River impacted communities to the south and southwest of St. Louis.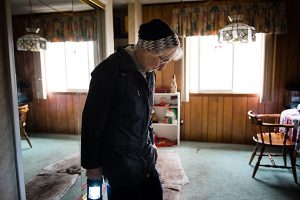 "The flooding ranged across much of the state — from Branson and the Southwest to significant areas here in the metro St. Louis area from out to Union, Eureka and Pacific [Missouri] all the way to Fenton," said the Rev. Dr. R. Lee Hagan, Missouri District president. "[Hundreds] of families had severe damage to their homes, and it looks like statewide there were over 100 homes totally lost. Our real hope is this gives us the opportunity to show Christ's mercy to those in need."
Hagan visited an area of Fenton Jan. 14 where about 30 volunteers came together from the Synod's International Center (IC) and from New Beginnings Lutheran Church in Pacific to "muck out" a house in a low-lying area that suffered significant flooding.
"Once we started doing some relief work, our district president reached out to us and asked if there was anything he could do to help, and he connected us with Disaster Response at LCMS," said Travis Torblaa, mission and ministry director at New Beginnings. "[LCMS Disaster Response] helped us get some emergency grants and provided [other] resources as well to help us prepare these homes for people to move back into them."
"You see all the devastation — these houses were under water," said Aaron Nielsen, administrative assistant for LCMS Disaster Response and cleanup volunteer. "This house [being cleaned out Jan. 14] had about four and a half feet of water, so we're taking out the sheet rock about five feet up, and it's a lot of work. We're also getting all the stuff that's water-logged and molded out to the street [for disposal]."
"The Jan. 14 cleanup effort was a partnership between [those who work at the IC] and a local congregation, and it allowed Synod employees to get their hands dirty and experience the disaster-response work the congregations are doing," said the Rev. Ross Johnson, LCMS Disaster Response director. "When you smell the smells and see the devastation, it helps you become more compassionate about helping other people."
Mississippi
A tornado that began as an EF-3 twister and strengthened to EF-4 with wind speeds of 166 to 200 mph tore through Northern Mississippi and some parts of Tennessee Dec. 23, reportedly killing nine.
"The tornado ripped through Holly Springs, home of Zion Lutheran Church, and was on the ground for a total of 150 miles, leaving death and destruction in its wake, but neither the local Lutheran church nor its members were directly affected by the storm," said the Rev. Ed Brashier, director of Shepherd's Heart Ministry and the Southern District's DDRC.
Brashier said even though no LCMS people were impacted directly, Southern District President Rev. Kurtis Schultz "activated" him as the DDRC, and [disaster response] crews arrived in Holly Springs just two days after Christmas to help residents.
"After offers of assistance from LCMS Disaster Response and Lutheran Church Charities, LERT volunteers from Alabama, Illinois and Indiana rolled in with chainsaws, Bobcats and tractors to help the local community recovery from the tragedy," said Brashier.
Texas
The 2015 holiday season also brought a cluster of fierce tornadoes to North Texas, and LCMS-trained district and local disaster responders have been vital in those recovery efforts. As many as 10 tornadoes ripped through the Dallas-Fort Worth area the day after Christmas, with at least one tornado in Garland reportedly rated as an EF-4.
Caring for body and soul after disasters
Johnson said what sets the LCMS apart from other emergency-response agencies amid the suffering brought about by the storms involves bringing the comfort of the Gospel to those who need it most.
"We in the church not only help people in their physical needs, but we also pray with them, we have a pastor on site, so that spiritual care can also take place," he said. "If they want to have a spiritual conversation, we're willing to do that — it's something that makes us unique as we respond to disasters: spiritual care, care for body and soul. It's something the government organizations don't do and a lot of [other] nonprofit organizations don't do."
"It's all about our own capacity to help both those outside the LCMS family who are hurting — and we do that in the clear name of Jesus Christ the Savior of the world — and helping our own LCMS people," said LCMS President Rev. Dr. Matthew C. Harrison. "You change their lives forever. They are so thankful — it's amazing."
Watch a related video, "Mercy in Action: The Church Responds to Recent Floods."
For more information on LCMS Disaster Response, visit lcms.org/disaster.
Roger Drinnon (roger.drinnon@lcms.org) is manager of Editorial Services for LCMS Communications. 
Posted Feb. 5, 2016