It's Still All About Jesus is the title of the 2017-18 edition of "Chapel Talks for Lutheran Schools," an annual worship resource from LCMS School Ministry.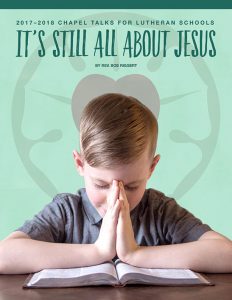 The resource contains an opening service, a closing service and 42 weekly chapel talks for use with students of all ages in Lutheran schools. Each talk includes a Bible reading, hymn selections, speaking points and a prayer.
Throughout the school year's "Chapel Talks," students will explore the various Old and New Testament names for Jesus, in conjunction with the celebration of the 500th anniversary of the Lutheran Reformation. Some names are familiar, while others — like "The Faithful Witness" and "The Rose of Sharon" — are not as well-known.
"Lutheran schools have always been about Jesus as His story has been shared and lived in every context. This theme not only provides an opportunity to reflect on our history, it also commends us to review our ministry and refocus our mission," author Rev. Bob Riggert wrote in the introduction.
Riggert, who also wrote the 2014-16 "Chapel Talks" and numerous other Bible studies and children's ministry resources, is a former Lutheran school teacher, principal and parish pastor. In addition, he served for 15 years as executive assistant for Education, Youth and Stewardship for the LCMS Iowa District West.
The resource also includes the original hymn "Yesterday, Today, Forever," which was written by Dr. Jeffrey E. Burkart, professor emeritus of Concordia University, St. Paul, Minn.
"Chapel Talks" is available as a free download at lcms.org/schools.
 In addition, a full-color paperback version may be ordered through Amazon for $9.99, plus shipping.
Posted May 17, 2017