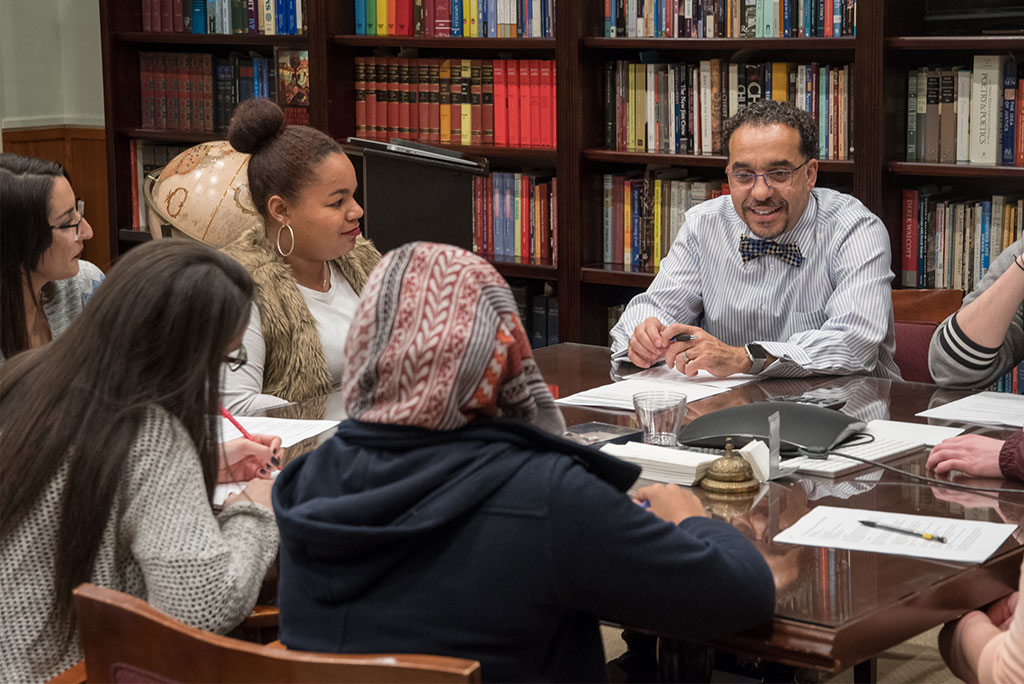 By Paula Schlueter Ross
Total 2017 fall enrollment for The Lutheran Church—Missouri Synod's 10 colleges and universities combined is down by 233 students since last year, or less than 1 percent (.7), for a total of 35,484 (both graduate and undergraduate).
That's barely a blip, in the eyes of Concordia University System President Rev. Dr. Dean O. Wenthe, especially when compared to the 4.3 percent loss of 1,590 students from 2015 to 2016 — the first loss in 24 years.
Wenthe said he considers this year's enrollment "a healthy number because it's not dramatically down." And it actually represents "a great deal of stability" in light of the "challenging culture" of higher education today.
Among those challenges that directly affect enrollment, he notes, are the shrinking pool of college-age young adults, the "explosion" in the number of distance-learning programs, and state-mandated tuition freezes at some schools. All of those factors drive up the competition for students.
And, with ever-increasing tuition and housing costs at most institutions, some families are even questioning the benefits of a traditional college experience, he notes.
In the midst of all these issues, a few schools — such as Grace University in Omaha — are even closing their doors because of financial and enrollment woes.
But Wenthe said he considers the Concordia University System (CUS), for the most part, "not only stable, but healthy."
More church-work students
Total CUS undergraduate enrollment increased by 237 students, or 1.4 percent, to 17,132 over fall 2016. But total graduate enrollment fell by 470 students, or 2.5 percent, to 18,352.
Five of the 10 CUS schools saw increases in enrollment, and five saw losses.
One perhaps surprising statistic — especially this year, with total enrollments down — is the total number of students studying for church-work careers: 1,341, an increase of 10 students over fall 2016.
Ten students may not seem like a big deal, but that number has fallen every year since 2010 (when it rose slightly), and before that, every year since 2001.
More students are choosing to serve as teachers (a total of 843, up 21), directors of Christian education (208, up 4) and directors of parish music (33, up 10).
Fewer entered programs for pre-seminary (163, down 7), deaconess (23, down 9) and lay ministry (32, down 9), while the number of students planning to serve as directors of Christian outreach and family life ministry stayed the same, at 5 and 34, respectively.
'Top-notch' quality
Wenthe says he hopes the increase in church-work students, however small, is the beginning of a more-permanent "reversal" in that formerly downward trend.
"I think there is a new interest" among students "that goes beyond simply salary and success in the marketplace," he told Reporter. "There's an interest in meaning" among today's young people, who are asking, more and more, what is my purpose in life?
What's "very encouraging," he adds, is that the quality of CUS schools as well as their church-work students "is often top notch." He said he enjoys talking to those students on CUS campuses and describes them as having a "deep commitment to the Lord and a Christian vision of how one should live" — a reflection, perhaps, of each school's purposeful environment.
Wenthe recalled attending recently a "packed" morning chapel service at Concordia University, Nebraska, in Seward, and seeing the hallway crowded with chapel-goers' backpacks, some with computers. But, perhaps unlike some large universities, those items, he added, "don't disappear in that safe and wonderful environment."
With the ever-present "Christian witness" of CUS schools, "the Gospel stands out more brightly," he said. "To believe that human life has a meaning, that death isn't the end of all things, is kind of a radically fresh and wonderful view of things."
He credited the schools' presidents with "negotiating these bumpy times very ably" by welcoming students from other countries and cultures, investing in new programs of study and "combining excellence in theology with excellence in academics" on campuses that are small enough for faculty to provide "personal attention" to each and every student.
Said Wenthe: "If you ask what really makes our universities special, I would say it's the people."
Boom at Bronxville
Seeing a record enrollment this fall is Concordia College—New York, in Bronxville, which gained 412 students for a total headcount of 1,597 in graduate and undergraduate figures combined — a whopping 35-percent increase over last year.
Growing enrollment was one of the main goals of the school's reorganization plan, which added specialists "who reach out to a wider variety of students, with staff fluent in eight languages," according to a statement.
Also cited were "innovative educational partnerships," both international and domestic, and "radical hospitality and adoption of [a] student-first mentality."
The Rev. Dr. John A. Nunes, who took the reins as the college's president just a year ago, told Reporter he's "amazed at the creativity of my colleagues to defy the trends in higher education in the Northeast."
Enrollment at the school is rising, he said, "because of premier programs and the fact that we offer a different educational experience. Our Lutheran Christian faith impels us to do difference differently.
"We are a higher-education community of learning where mutual respect flourishes, responsibility is developed and reverence for God is cultivated so that students can pursue lives of passion, purpose and service."
Nunes also credited the school's best-of-both-worlds location within "the diversity and safety of Westchester, coupled with proximity to the international destination that is the classroom of Metropolitan New York City."
Concordia—New York also was named a top-20 Best North Regional Liberal Arts College in the 2018 U.S. News and World Report "Best Colleges" rankings, a top-10 Best Value School in the North Region, and regionally is ranked third in "Ethnic and Economic Diversity" and second in percentage of international students.
With its motto of "Small School. BIG IMPACT," Concordia College—New York says its small scale enables it to "nurture each and every one of our students … there are no anonymous students," and it works hard to give "every student whose life we touch the ability to make a real difference in our world."
That sentiment is echoed by Wenthe, who said he believes that if more LCMS members actually visited a CUS campus, they would experience that nurturing difference a uniquely Lutheran Christian education can provide.
In fact, he would like to see a resolution adopted at the 2019 LCMS convention that asks every Synod congregation to send three to five of its "key leaders" (such as the pastor, chairman, secretary, treasurer and elders) to the nearest Concordia college or university campus for a day or two to take a tour, attend chapel, sit in on classes, and talk with the students and faculty.
That way, they could personally experience the Concordia difference and could recommend to their church's young people that they "consider Concordia" — and maybe even a church career.
Individual enrollments
This fall's enrollments — including both graduate and undergraduate students — at individual CUS schools are as follows:
Concordia University, Ann Arbor, Mich. — 1,081 (an increase of 27 students).
Concordia University Texas, Austin — 2,627 (down 103).
Concordia College—New York, Bronxville — 1,597 (up 412).
Concordia University Irvine, Irvine, Calif. — 4,249 (down 50).
Concordia University Wisconsin, Mequon — 7,288 (down 433).
Concordia University Portland, Portland, Ore. — 5,125 (down 330).
Concordia University Chicago, River Forest, Ill. — 5,760 (up 157).
Concordia College Alabama, Selma — 445 (up 67).
Concordia University, St. Paul, Minn. — 4,792 (up 257).
Concordia University, Nebraska, Seward — 2,520 (down 237).
For more information about LCMS colleges and universities — and professional church-work careers — visit the Concordia University System website or watch below:
Paula Schlueter Ross (paula.ross@lcms.org) is manager of News and Information Services for LCMS Communications.
Posted Nov. 15, 2017